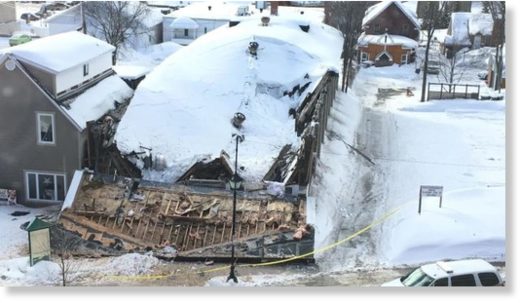 A downtown building that's been part of Edmundston for at least 115 years collapsed early Friday, and city police say it was probably because too much snow had piled up on its flat roof.
Insp. Alain Lang of the Edmundston police said there were no injuries, and no one was near the empty building when it came down around 4 a.m.
The building at Church and Hill streets is owned by Downtown Edmundston, which used it for storing tents chairs, tables and other equipment for a farmers market.
She said the building was initially bought in 2012 and was supposed to be bought to be a tear down and rebuild a farmers market with that lot and the two next to it.
Melanie Ruest, the co-ordinator of Downtown Edmundston, said the group bought the building in 2012 and planned to tear it down. A feasibility study was underway to build a farmers market on that lot.
"I felt bad for that because all of our stuff was stuck in there," said Ruest, who received a call from the Edmundston Fire Department shortly after the collapse.
"We will have to try and replace everything."
Materials costly to replace
Ruest said the materials in the building were worth about $8,000 and not insured. The remains of the building will be hauled away over the weekend, and the items inside it will have to be replaced, she said.
Ruest, who was ins the building only eight days ago, was grateful there was no one inside or nearby when it collapsed.
"It was a really old building," she said. "If I felt it was going to collapse I would've taken my stuff out ... I never thought it would collapse this fast."
Nearby buildings weren't affected by the collapse.
Plans to build a market on that lot and two others nearby ran into financial problems, Ruest said.
"The project didn't go down the drain, but we had to rethink it and we had to propose something else" she said. "Right now we're having a study made for something a little more small for a farmers market, and we should receive a study in three weeks or four weeks and we were going to think about that lot."
The City of Edmundston issued a notice to Downtown Edmundston in 2017, asking it to either demolish or renovate the building.
This notice followed an inspection by the fire department that found the roof was leaking. The problem was not considered serious enough to order the immediate demolition of the building.
The collapse "happened a little too soon because we were going to do something in the really [near future]," Ruest said.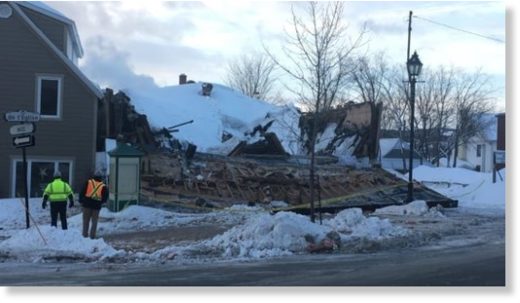 According to the Register of Historic Places in Canada, the "flat-roofed business house" was built around 1900.
It was first a bowling alley and once housed the Star Movie Theater, one of two movie houses in Edmundston in the 1920s. It also hosted boxing matches and housed Spilly's resto-bar.
The building is adjacent to a vacant lot on Rue de l'Église where a major fire destroyed two old buildings six years ago. A restaurant, apartments and a laundry room went up in smoke.