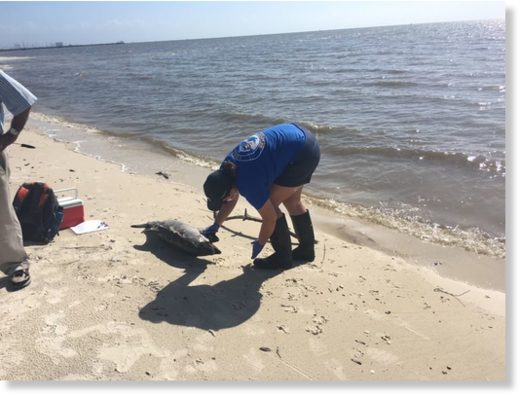 Marine officials were out in Long Beach Saturday morning after discovering two dead baby dolphins on the beach there. A third baby dolphin was found dead on Ship Island on Friday.
Dr. Moby Solangi, the director of Institute of Marine Mammal Studies, said the two in Long Beach were found within a mile of the other on the beach.
Solangi and his team are now looking into how the infant dolphins died. According to Solangi, it's not uncommon to see dolphins come ashore during birthing season. However, Solangi said it's still really early in the birthing season.
"This is kind of odd that this many babies are dead in such a short time," said Solangi.
"Something may be going but it's still early in the season. We will continue to watch this very carefully."
Susan LaRosa found the two dolphins in Long Beach while she out walking the beach.
"Usually I'll see like dead fish, jellyfish, and things like that," said LaRosa. "THen I ran a little further and I found another dolphin."
Solangi said the two dolphins discovered in Long Beach have most likely been dead for some time, at least four days.
"When an animal dies it starts decomposing," he said. "Its mouth swells, its tongue swells. It is pretty gross after it's been decomposing for many days."
IMMS marine scientist Lauren Cooley gathered samples from the dolphins Saturday before bagging them up to study them further. She said the samples will be sent to Mississippi State University for toxicology and pathology tests.
Solangi and his team are now looking into how the dolphins died and whether or not their deaths tell a bigger story.
"If they are doing well that means the environment is doing well. If something is wrong, they would be the ones to reflect that change," said Solangi. "By monitoring them, we are able to tell what's going on in the environment and how it would affect us."