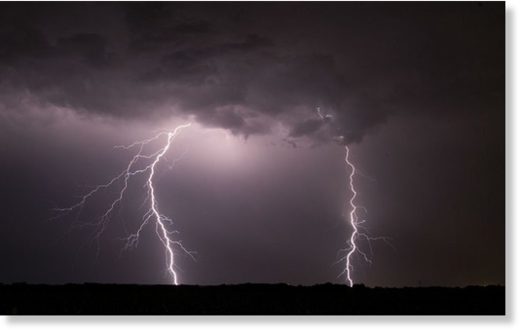 There was mourning in Pogo community, in the Paikoro Local Government Area of Niger State, when a thunderbolt killed two residents over the weekend.
Both victims reportedly died on the spot when the thunderbolt struck around 8pm after a drizzle. Another local resident, identified simply as Abdullahi, also sustained injuries from the storm.
Punch reports that the unfortunate victims were a 25-year-old man, Aliyu Salihu, and a 13-year-old pupil of an Islamic school, identified simply as Abbas.
According to Aliyu's father, Malam Makeri Salihu, the victims were harvesting mangoes when a lightning enveloped the community with the accompanying thunderbolt.
"There was an electric spark and a heavy thunderstorm, which shook the entire community. People were screaming in front of my house and when I rushed out, I saw three people lying on the ground under the mango tree. Abbas and my son, Aliyu, died on the spot, but Abdullahi was injured," he said.
The distraught father described the death of Aliyu, whom he said was his eldest child, as devastating, adding that he wasn't far away from starting a family of his own.
Meanwhile, the state Police Public Relations Officer, Muhammad Abubakar, said the incident was not reported to the police.
"I am not aware of the incident; it was not reported to us," he said.