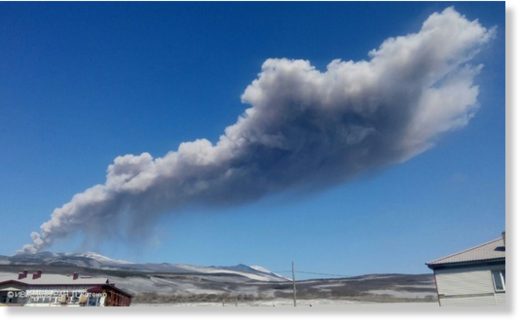 Volcano Ebeko is a natural sight featuring quite often in news reports, as it frequently stages spectacular "ash" shows for those living on Russia's Sakhalin island as well as guests to the picturesque Far Eastern region.
On Saturday, the volcano, which lies on Paramushir island on the Northern Kurils sent up into the air an ash plume of about 2 kilometers above the sea level.
"The ash cloud has moved east of the volcano," a report by a local volcano eruption response unit [KVERT] of Institute of Volcanology and Seismology, the Russian Academy of Sciences, reads.
The current activity of the volcano may impact low flights and operations of Severo-Kurilsk airport, KVERT group has noted.
Wind gusts have also reportedly brought volcano ash to the small town of Severo-Kurilsk, Russian media wrote.
Sporadic ash emissions were reported all through the year of 2017, with dense ash plumes rising several hundred meters, which was easilyobserved from Severo-Kurilsk. The activity reportedly continued with a moderate emission of steam and gas, triggered by ground waters, which get heated by an underlying magma. The latter doesn't usually reach the surface, though.
The Kuril islands in Russia's breathtakingly beautiful Sakhalin region, are a volcanic archipelago that occupies a vast land of roughly 1,300 kilometers northeast of Japan's Hokkaido to Russia's Kamchatka, drawing a line between the Sea of Okhotsk and the north Pacific Ocean.