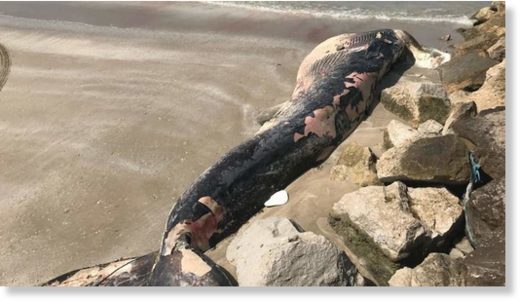 The people of Al Rams area, 12km to the north of the Ras Al Khaimah city, have found a 9m long dead whale on the Al Rams shore.
Fahd Abdullah Juma, an Emirati national from the Al Rams area, said the smell of the deceased mammal spread around the vicinity.
"This is mainly because of remaining dead for long hours," he said, urging the bodies concerned to remove it as soon as possible.
"The smell is so terrible that the people of Al Rams cannot go to the beach there," he said, urging the bodies concerned to scientifically dissect the dead whale and identify the actual reasons for its death.
According to Khalifa Al Muhairi, chairman of the RAK fishermen society, the dead whale is of the Bryde's species.
"The death of the whale was blamed on fishing nets, sea waste, or collision with one of the big ships."
He added that the emirate had encountered several dead whales earlier.
"Though fishing nets should not be more than 1,500m long per law, some fishermen use nets that are more than 4,000m long, which whales cannot escape out of; resulting in their deaths"
Some whales might have also swallowed sea waste that are recklessly dumped by the residents or fishermen, he underlined.
"The RAK fishermen society has not been alerted about the dead whale, but we are more than ready to help with all possible means, equipment and experts."
Early in 2006, a dead whale of the same Bryde's species was found at the Al Mamzar shore in Dubai.
The 13m long and 10 tonnes heavy whale, scientifically known as (
Balaenoptera edini
) was of the
alaenopteridae
family and was killed with four arrows.
Up to 30 specialists of the environment protection section and wastes services section at the Dubai municipality as well as special equipment were needed to remove the dead whale from the shores of Al Mamzar.