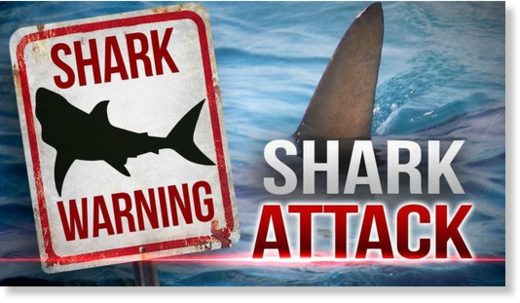 A woman is severely injured after being bitten by a shark off the coast of Sydney.
The swimmer was in the water at Congwong Beach in La Perouse at 7pm on Friday when she was attacked by what is believed to have been a shark.
In the wake of the attack, the local council has announced all beaches in the area will be closed on 'for at least Saturday'.
The woman, who is aged in her 50s, was taken to St George Hospital where she is being treated for severe lacerations to one of her legs.
A NSW Ambulance spokesman said it was unclear what species of shark had bitten the woman.
Officials from Randwick City Council said overnight the four beaches around La Perouse will be closed by lifeguards during the weekend.
This includes Congwong - where the attack happened - Little Congwong, Yarra Bay and Frenchman's Bay.
Sydney is set to sizzle as the temperature rises up to 33C on Saturday.
Randwick mayor Lindsay Shurey said: 'From all accounts the woman was very lucky and certainly the whole community's heartfelt thoughts are with her for a full recovery.
'I've lived in the area for 25 years and this is the first confirmed shark attack in Randwick City. We're all a little shocked and concerned.
'As a precaution, Council Lifeguards have immediately closed all the La Perouse beaches including including Congwong, Little Congwong, Yarra Bay and Frenchman's Bay for at least Saturday.
'Council Lifeguards will be stationed at the usually unpatrolled beaches on Saturday to advise swimmers not to swim.'