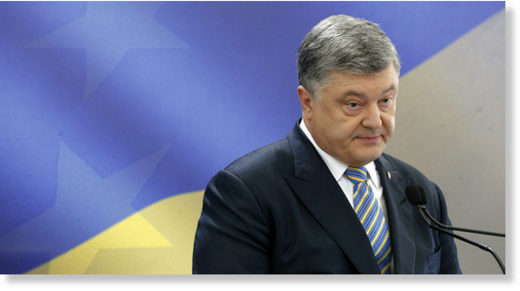 Ukrainian President Petro Poroshenko signed on Tuesday the law on Donbass reintegration. Ukraine's parliament adopted the document, which dubs Russia "an aggressor", and Donbass territories not controlled by Kiev "occupied," last month.
"By signing this law, I would like to stress that Ukraine remains committed to a peaceful solution to the problem of the occupied territories' liberation. This is proved by our resolute struggle for the deployment of a classic UN peacekeeping mission that will be able to ensure security for the restoration of sovereignty," Poroshenko said, following the signing of the law.
According to the Ukrainian leader, the signed bill does not contradict Ukraine's international obligations.
"This law does not violate any of Ukraine's international obligations, including the Minsk agreements," Poroshenko stated, adding that the document should serve as a legal mechanism for the political return of the region to Kiev's control.
On January 18, the Ukrainian parliament adopted the bill on the reintegration of Donbass, from which the provision on the priority of the Minsk agreements' implementation for the conflict's resolution was omitted. The bill suggested relying on the UN Security Council resolution on Donbass instead.
Change in Format of Military Op
The Ukrainian president has also instructed the country's defense minister to change the format of the military operation in conflict-torn eastern Ukraine by April 1.
"I would like to ask you [Defense Minister Stepan Poltorak] to prepare the relevant proposals on changing the format [of the military operation] in accordance with this law [on reintegration of Donbass]. I would also ask you to prepare the candidature of the commander of the joint forces [fighting in Donbass]," Poroshenko said at a Cabinet meeting, which was broadcast by the "112 Ukraine" television.
Poroshenko also instructed the minister to submit a draft proposal to the joint operational headquarters, the strategic plan for the use of the armed forces and other components of the Kiev-led joint forces in eastern Ukraine. All these proposals must be ready for signing by April 1, Poroshenko announced.
Talks With Merkel
Ukrainian President Petro Poroshenko and German Chancellor Angela Merkel discussed in phone talks on Tuesday the possible deployment of a UN peacekeeping mission to conflict-hit eastern Ukraine, Poroshenko's press service said.
"Petro Poroshenko and Angela Merkel exchanged views on issues related to the restoration of the effective work of the Joint Center on Control and Coordination in Donbas and the possibility of deploying a UN peacekeeping mission in certain areas of the Donetsk and Lugansk regions," the press service said in a statement, adding that special attention was also paid to the prompt release of prisoners of war by conflicting sides.