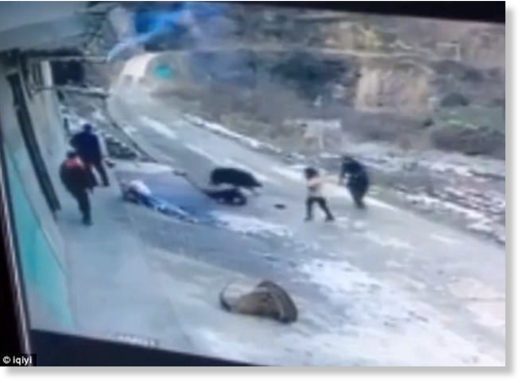 A wild boar in northwest China was shot dead by snipers after attacking an old man and his daughter-in-law in a village.
CCTV footage shows the boar attacking an elderly man who fell on the ground, as his four family members try to distract it using shovels.
The 66-year-old man has died and a woman was seriously injured.
According to
Beijing Youth Daily,
the elderly man, surnamed Zhang, was chased after by a 220lbs wild boar when he was picking the coal to make fire in his house on January 31 afternoon.
Zhang was living in Peiba village in Ziyang of Shaanxi Province, along with a bedridden wife, his son and daughter-in-law.
The surrounding CCTV footage captured the moment of the brutal attack when Zhang was hit on the floor.
Four villagers, including his daughter-in-law, known by the surname Xie, were driving the boar's attention away from the old man.
Xie was gored by the animal when she was making a phone call. She fell and crawled along the ground.
She was seriously injured and had to send to hospital for treatment.
Ziyang Police Bureau issued a statement claiming that they had sent out officers and snipers to the location to shoot down the wild boar.
Snipers had to use QBZ-95, an assault rifle to kill the boar at 40 metres (131ft) away.
Police officers also reminded the public not to alert the wild boar by assaulting or shouting.