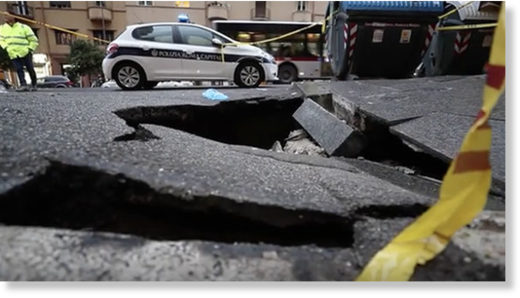 A giant sinkhole has opened up in the middle of a busy street in the Italian city of Rome, which plunged a terrified elderly woman two metres below the road.
A 77-year-old woman was walking on the pavement when she suddenly fell into the two-metre deep crater, which appeared on Tuesday morning.
Emergency services scrambled to the street in Catania, in the Piazza Bologna, to rescue the injured woman.
The woman was rushed to Policlinico Umberto I hospital, where she was treated for minor injuries.
The road was closed off while officials investigated the causes of the crater.
"Rome collapses and mayor Raggi says everything is all right."
Carved up by two major fault lines, Italy has gained a reputation as one of the most earthquake prone countries in Europe.
The Eurasian and African plates meet along a line which runs through North Africa and crosses the Mediterranean near southern Italy and Greece.
As a result two main cracks - or fault lines - cut across the Italian peninsula, one running north-south along the spine of the Apennine mountains and another crossing east-west south of Rome and north of Naples.
Additional reporting by Maria Ortega