Following the posting on the Central Bureau's Transient Object Confirmation Page about a
possible Nova in
Musca
(TOCP Designation:
PNV J11261220-6531086
) we performed some follow-up of this object through a TEL 0.50-m f/6.8 reflector + CCD + focal reducer from MPC Code Q62 (iTelescope Observatory, Siding Spring).
On images taken on January 15.57, 2018 we can confirm the presence of an optical counterpart with R-filtered CCD magnitude ~6.3 at coordinates:
R.A. = 11 26 14.95, Decl.= -65 31 24.1
(equinox 2000.0; Gaia DR1 catalogue reference stars).
This transient has been reported to CBAT/TOCP by Rob Kaufman, Bright, Victoria, Australia. Discovery image (taken with Canon 650D & 55mm lens) is
available here
. He also posted a low-resolution spectrum that "
shows strong hydrogen emissions as well as FeII lines
":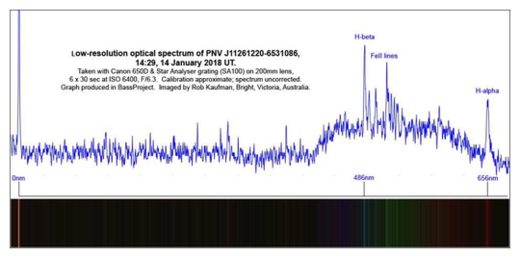 Below you can see our confirmation image (single 30-sec exposure through a 0.43-m f/6.8 reflector + CCD), click on it for a bigger version: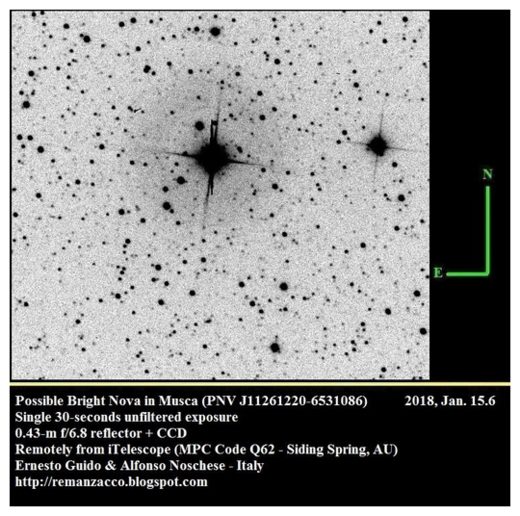 An animation showing a comparison between our confirmation image and the archive POSS2/UKSTU Red plate (1998-03-19). Click on it for a bigger version:
UPDATE - January 16, 2018
According to CBET 4472 this transient could be a classical "Fe II"-type nova and it has been designated NOVA MUSCAE 2018.