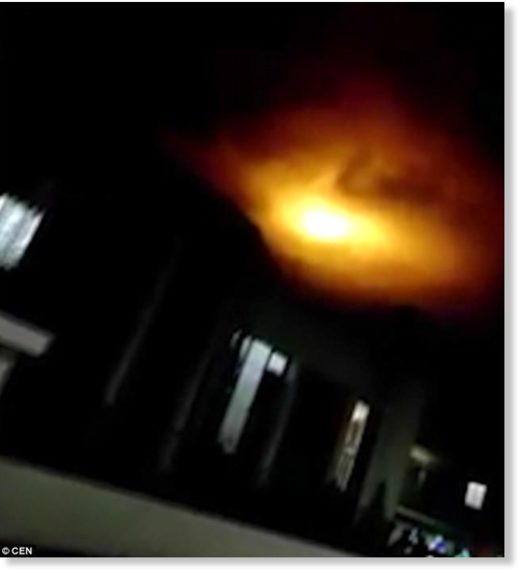 This is the moment a mysterious fireball snaked its way across the night sky, sparking fears that the earth is being targeted by alien invaders.
Footage captured by residents in Colombia shows a large ball of light looming overhead for several minutes.
Slowly, the ominous orange glow fades into the distance and eventually disappears.
The strange sighting took place in the town of Ocana in Norte de Santander, Colombia.
Witnesses say the glow faded from view close to the neighbouring town of Aguas Claras.
Many residents captured the bizarre phenomenon and several videos have gone viral across social media.
The overwhelming conclusion by onlookers was that the odd mass was an alien spacecraft attempting to land on earth - but doing a quick risk assessment first.
But other eagle-eyed observers pointed out that the bright light could be a flare or another fired object.
A man can be heard in the background shouting in Spanish: 'It's not a star. It's not a plane. It's Superman!'
'It's moving!' exclaims another spectator.
The Colombian authorities and residents are still baffled as to what the light was, according to local media.
Some people joked that the vision showed the end of the world was imminent, while others came up with more sensible explanations.
Facebook user Dixon Florez Castro said: 'The light is from a flare parachute used during military actions.
'They illuminate large areas at night, usually for parachute landings and observational operations. Here it looks more dramatic because the sky is cloudy.'
It is currently unclear as to whether a flare parachute caused the eerie bright light.