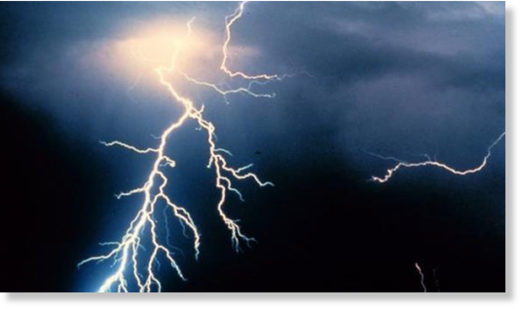 Police in the Northern Territory say a camera tripod may have contributed to the death of an Adelaide man struck by lightning on Tuesday.
Antony Van Der Meer was on a dream outback holiday at Kings Canyon with his wife Jessica, mother-in-law and his sister and brother-in-law when tragedy struck about 5pm on New Year's Day.
NT Police Superintendent Pauline Vicary said the bolt hit Mr Van Der Meer's metal tripod.
"They were on the Kings Canyon Rim Walk and the incident happened about 500m from the carpark area," she said.
"They were nearly at the end of that walk when two storm fronts came through at the same time, there was quite a bit of rain and lightning and unfortunately the lightning struck the tripod that the deceased person was carrying on his back."

His family spent two frantic hours trying to revive him.
By lunchtime on Wednesday, more than $3000 had been raised for Mr Van Der Meer's loved ones as friends and strangers alike rallied to them.
One online fundraising page, which aims to raise $5000, described the 35-year-old as "an amazing husband, son, brother and friend".
"Anyone who was lucky enough to call Antony Van Der Meer a friend for the past 35 years knew what a big hearted, generous and hilarious man he was," the page said.
"He meant so much to so many people, none more so than his beautiful wife Jess."
A second fundraising effort on GoFundMe aims to raise a further $10,000.
Mr Van Der Meer was well-known among the Adelaide dance music fraternity through his former involvement with radio station Fresh FM, where he was known as "Trance".
The Advertiser
has learned the man was photographing his family's hike.
As the family ran towards safety, a lightning bolt struck, killing Mr Van Der Meer and throwing his companions to the ground around him.

Family members performed CPR after raising the alarm, however he was pronounced dead when a team of park rangers and paramedics reached the scene more than two hours later.
Source: The Advertiser