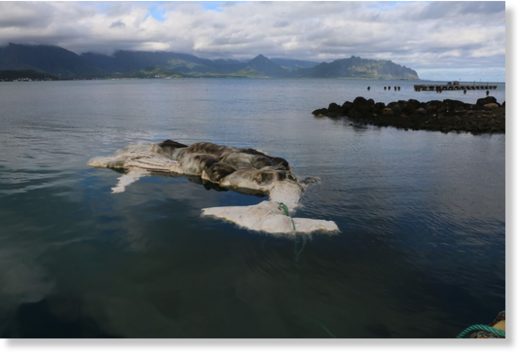 A humpback whale carcass that was seen washing up onto a reef near the Marine Corps Base Hawaii was brought to shore Saturday morning by salvage crews.
The Department of Land and Natural Resources says there's a good chance it's the same carcass that was seen off of Haleiwa on Christmas Day.
The carcass was towed eight miles offshore earlier this week. Weather stopped it from being towed farther.
The carcass entered bay waters late on Thursday. The DLNR reports that the carcass split into two major pieces, with the whale's skull sticking out of the water a short distance from the main carcass.
Officials felt since sharks often feed on whale carcasses, to protect the public, it made sense to get it out of the water as soon as possible.
(For cautionary purposes, recreational activities from MCBH's Hale Koa Beach, Pyramid Rock Beach, Secret Beach and North Beach are not allowed until Wednesday morning, Jan. 3. Boating, marina access and the sand bar are not affected.)
Coincidentally, the UH's Hawai'i Institute of Marine Biology Cetacean Stranding Lab is located at MCBH, mere steps away from the boat ramp. Dr. Kristi West, who runs the lab, says this is the first cetacean that died and ended up so close to where a large team of students and volunteers have begun the long process of conducting a post-mortem examination.
Given the extent of decomposition, Dr. West feels it's unlikely they'll be able to determine the cause of death.
Prior to the examination, cultural practitioner Walt "Kahele" Mix conducted protocol to recognize the whale's place in the ecosystem and the species importance to native Hawaiians.