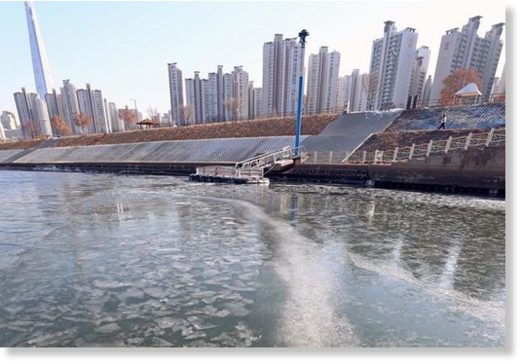 Kim In-sik, head of the Seoul Weather Station, stood on the Han River Bridge and looked down on the river for about two and a half hours since 5 a.m. He slapped his lap. At the dawn's light, it was definitely ice on the shining surface of the river.
After two nights amid severe cold weather, the day set a record for the earliest ice formation on the Han River since 1946.
A five-day cold spell has led to ice formation on the Han River
one month earlier than expected.
The Korea Meteorological Administration said that the earliest ice formation of this winter was observed at the Han River Bridge at the dawn of Friday. The ice was formed between second and fourth piers on the Noryangjin side.
This has been the first ice formation on the Han River before December 15 in 71 years since December 12, 1946.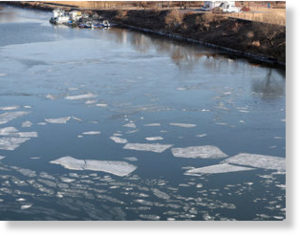 Freezing of the Han River occurred 29 days earlier than the usual (January 13) and even 42 days earlier than last year (January 26).
The biggest attributing factor is the unusual cold wave that hit the Korean Peninsula in the middle of December.
The lowest temperatures of the morning in Seoul from Monday to Thursday were minus 11 C, 12.3 C, 12 C and 11.2 C, all dipped below minus 10 degrees Celsius. The sub-zero temperature continued during the day.
Though the temperature rose on Friday as the weather got warmer, the weather was still icy cold in the morning with the temperature standing at minus 7.5 degrees Celsius. Usually, ice formation on the Han River occurs if the lowest morning temperature in Seoul falls below minus 10 degrees Celsius for three consecutive days and the temperature remains below zero during the day.
The sudden cold snap over the Korean Peninsula is gone but its impact is expected to continue through early next week. The lowest temperatures in the morning in Seoul on Saturday and Sunday are expected to record minus 7 degrees and 11 degrees, respectively. The day temperature will rise over zero in most regions across the nation on Monday. However, it will reach the usual temperature by the middle of next week.