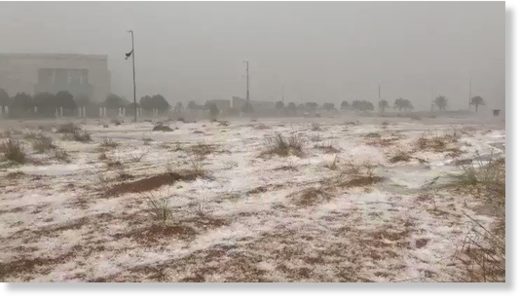 Weather is playing spoilsport this weekend as many residents are putting off their outing plans as storm and rain alert looms.
The National Center of Meteorology (NCM) has predicted unstable weather across the UAE, with chances of rain and thunderstorms, between December 15 and 18.
Many families said they are heeding to the forecast, and called off picnics and off road adventures.
"My family is on visit from India and we were planning to go for a desert drive on Saturday. We cancelled it thinking the weather will be too dangerous to venture out," said Abdul Rahman, an Abu Dhabi resident.
Shamma Hussain and her friends were all set for a hiking adventure at Jabal Jais mountain in Ras Al Khaimah on Saturday, but the weather alert ruined their plans as well.
"We are a group of eight friends and we have been planning this trip for a while. But after reading about the unstable weather reports, we had no choice but to cancel the plan. Ras Al Khaimah could get pounded by heavy rains, and we thought it is not worth taking a chance," said Hussain, a university student from Jordan.
Corporate events and birthday parties have also taken a hit due to the stormy weather. "We are seriously concerned about the weather forecast as we are hosting an outdoor party for more than 600 clients in Dubai on Sunday," an official from a private bank said. "We are thinking of calling it off. You are talking about a few hundred thousand dirhams down the drain," said the bank official.
عاصفة بردية تضرب جنوب رأس الخيمة ، بعدسة راشد الخاطري #مركز_العاصفة #منخفض_المربعانية pic.twitter.com/y9GxTlt5TP
- مركز العاصفة (@Storm_centre) December 16, 2017
الثلوج تغطي مستشفى الشيخ خليفة التخصصي في رأس الخيمة، اللهم اجعل هذه الثلوج والأمطار بشارة خير وسعادة على المرضى ❤️❄️ pic.twitter.com/yaXNAZrFyA
- مصدر للطقس (@MSDAR_TAQS) December 16, 2017
Hailstorm blankets parts of RAK
Meanwhile, heavy rain and thunderstorm lashed parts of the UAE on Saturday. NCM reported heavy rain over Jais mountain and in WAM city in Dibba, Al Fujairah. There was also heavy showers in parts of Ras Al Khaimah with police warning motorists to drive safe.
His Highness Sheikh Hamdan bin Mohammed bin Rashid Al Maktoum, Crown Prince of Dubai, also shared a video of the hail covered desert in RAK and a breathtaking photo:
Video: #Dubai's Sheikh Hamdan shares breathtaking video, photo of hail covered #UAE desert https://t.co/B1eOYUa2Gm pic.twitter.com/EtCyX2p6cV
- Khaleej Times (@khaleejtimes) December 16, 2017
The weather department has sounded off the alarm and asked residents to be cautious while out near the sea. "It is not advisable to go swimming or venture out to the mountains till Monday. The weather conditions are very unstable and we are closely monitoring the situation," said a forecaster.
According to NCM, clouds will increase over most areas of the country, some becoming convective clouds, associated with rain fall of different intensity at scattered places.
Moderate to fresh winds will blow over land which may cause rising dust. The sea will be rough to very rough at times, especially with clouds activity in the Arabia Gulf and the Oman Sea.
Weather forecast point to towering clouds formation associated with rainfall, fresh wind and rough sea in the Arabian Gulf and Oman Sea. Reported wind speeds in the Arabian Gulf are at 35 - 45 km/hr, reaching 45 - 55km/hr in case of cloud activity. Wave heights range from four to six feet, reaching six to nine feet in case of cloud activity, the NCM said.
Taking into account the looming rains and storm, the General Directorate of Abu Dhabi Police (ADP) said it has stepped up its preparations for emergency situations due to the expected weather fluctuations.
RT reports: Freak hail & thunderstorms batter UAE