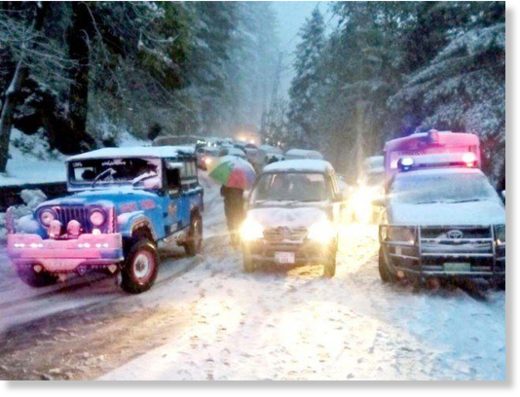 The Galiyat region received first heavy snowfall of the season that left roads blocked, tourists stranded and schools closed.
Galiyat Development Authority (GDA) was making its all-out efforts to clear the roads, spokesman of the GDA said while talking to media.
Clouds dumped over three feet of snow covering the resort towns with a white sheet.
As persistently as the snowfall every year, the authorities were stupefied in managing the situation.
Roadblocks, power breakdowns and severed supplies continue to dog the mountain communities.
Owing to precarious weather, Abbottabad DC Aurangzab Haider ordered closure of all public sector schools in nine union councils till December 16. These union councils include Beeran Gali, Seer Gharbi, Seer Sharqi, Tajwal, Nathiagali, Nambli Mara, Patan Kalan, Plakh and Nagri Bala.
It has been learnt that Abbottabad-Murree road is looked after by K-P Highway Authority (KPHA) and interestingly it has no arrangements to clear the roads. KPHA had requested GDA to help clear snow on Barrain-Nathaigali-Abbottabad road and Kozagali-Ayubia-Khanspur Road. Subsequently, GDA deputed staff on the roads while DG Waseem Ullah also visited the area to review clearance of
snow which was up to three feet at some places.
Electricity too disappeared with the snowfall. "It will take days to restore power supply,"
said a Pesco official. He said Pesco personnel were unable to move equipment in snow, while it was also raining with frequent intervals.
Low pressure of gas has also created problem for the residents of Abbottabad.
Senior officials of the Sui Northern Gas Pipelines in Abbottabad held a meeting at the office of deputy commissioner with the LG members and representatives of traders assuring them of improved gas supply without any break.