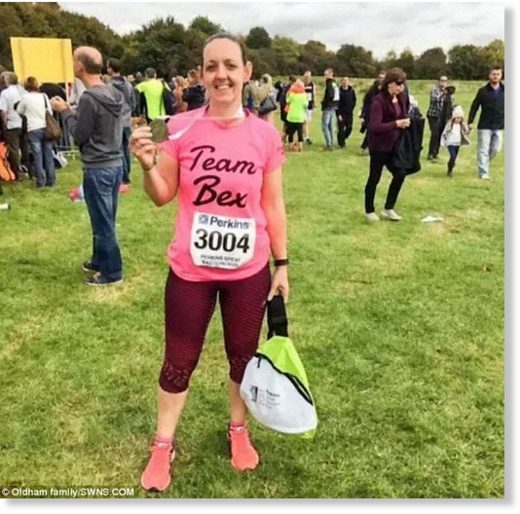 A British woman has died after being struck by lightning while playing golf with her husband on a romantic holiday in Turkey.
Sarah Oldham, 39, suffered a cardiac arrest after being hit by a lightning bolt as she sheltered under an umbrella when it started to rain on the course in Belek, on Turkeys south coast.

Mrs Oldham, from March, Cambridgeshire, was taken to hospital and eventually airlifted back to the UK, but died 12 days after the accident.
Mrs Oldham and her husband Alex, 36, had arrived in Turkey on November 17, and were enjoying their third round of golf in as many days when disaster struck.
Mr Oldham says he looked round after hearing 'an almighty crack of thunder', only to see his wife lying unconscious on the ground.
'We went out for a round of golf and despite the forecast being clear it started to rain about an hour and a half into the game.
'We heard a crack of thunder but it was a long way off. It then really started to rain hard.
'Sarah went to one side of the fairway, which is surrounded by thousands of really tall trees, and I went to the other, we both crouched down and put our umbrellas up.
'There was an almighty crack of thunder, I turned around and couldn't see Sarah's umbrella. I ran over to her and I realised she had been struck.'
He called for help and carried out CPR on his wife until paramedics arrived at the Sueno Golf Hotel near Belek on Turkey's southern coast where the couple were staying.
Mrs Oldham was rushed to the local hospital in Belek before being transferred to the main hospital in Antalya.
She was later flown home to the UK in a private jet but died at Peterborough City Hospital in the early hours of Saturday morning.
Mr Oldham said: 'I knew there was not much hope, but we didn't want to give up hoping while there was a even a glimmer of a chance.
'Once we got to Peterborough I was told she only had a few hours left so her mum and I sat with her and said our goodbyes.
'What I loved about her was the fact we could play sports together.
'We enjoyed playing tennis, table tennis as well as golf and she really went all out to be the best she could be.
'In recent she years she really improved to such an extent I had to up my own game to beat her.'
Mrs Oldham, a qualified netball coach also enjoyed running and was planning to complete a marathon.
Following her death, Mrs Oldham has been described as 'simply the best company and the most loyal friend you could ask for'.
Her manager Malcolm George said: 'Sarah proved to be a conscientious, caring employee.
'I will miss her support and guidance and her down to earth sense of humour.
'Sarah was loved and respected by all who knew her and will be greatly missed by both staff and residents alike.'
Members of the Wisbech Netball League held a minute's silence in her memory before the start of matches on Wednesday evening.
Her team mates added: 'Sarah loved a challenge and thrived on making people smile, she would always be the first one on the dance floor on a night out and the last to leave.
'She was very competitive and worked hard at improving herself in anything she took part in which then rubbed off on everyone else around her.
'Sarah was simply the best company and the most loyal friend you could ask for..'
Mrs Oldham's funeral will be held on December 21 at Fenland Crematorium in March, Cambridgeshire.