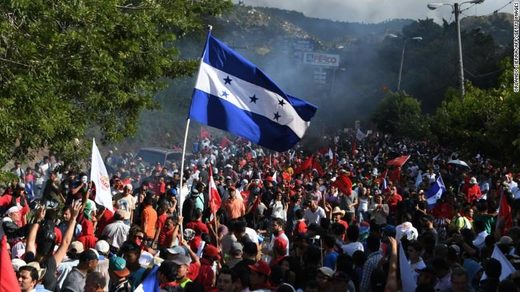 Allegations of corruption and human rights abuses by the incumbent Hernandez government in Honduras can safely be put to rest.
Allegations of corruption and human rights abuses in Honduras' following last Sunday's contested presidential elections can safely be put to rest now that the government of incumbent President Juan Hernandez has been certified as clean by no less authoritative body than the U.S. Department of State.
Or can it?
According to Reuters, the U.S. State Department has certified the anti-corruption and human rights-supporting bona fides of the Hernandez administration, clearing the way for Honduras to receive millions of dollars in U.S. aid.
The certification comes in spite of major rights violations alleged by victims of Honduran security agencies, censorship toward opposition media outlets, a lack of attention to alleviating poverty and jobs, the plunder of the country's national health care agency to the tune of US$300 million, and a militarized campaign of repression meant to crack down on violent crime.

Comment: Par for the course in any country enjoying US 'beneficence'.


The document, dated Nov. 28, showed that Secretary of State Rex Tillerson certified Honduras for the assistance only two days after the country's presidential election process scandalized the world through what many in the world - especially in Honduras - saw as a case of brazen fraud.
The move is sure to add fuel to the fire of claims that the State Department is steeped in double standards and hypocrisy, treating some countries as "undemocratic" and deserving of sanctions while shielding allies from similar complaints.
Hernandez, 49, implemented a military-led crackdown on gang violence after taking office in 2014. He has been supported by Trump's chief of staff, John Kelly.
Honduras has witnessed tens of thousands of protesters flooding the streets of the capital, Tegucigalpa, over the disputed results of the election, which they claim was stolen from challenger Salvador Nasralla, although the electoral tribunal has not declared a winner.
The decision to issue the certification prompted concern from some on Capitol Hill that Republican President Donald Trump's administration will be seen as taking sides.
"What kind of message does that send?" one congressional aide asked.
State Department officials did not have an immediate response when questioned about the timing of the certification.
Honduras is required to fulfill about a dozen requirements in order to receive its share of US$644 million appropriated by the U.S. Congress under a program to assist Central American governments.
Among those requirements are combating corruption - including investigating and prosecuting current and former government officials alleged to be corrupt - and
protecting the rights of political opposition parties.
Over the weekend, the
government ordered security forces to violently clamp down
on anyone breaching the 6 p.m. to 6 a.m. curfew,
including journalists
, while suspending constitutional rights for 10 days. Showing the dire state of political rights in the country, opposition and human rights groups say peaceful protests
may have been infiltrated by criminals and government-aligned provocateurs.
Honduras was
plunged into a brutal cycle of violence following the 2009 Washington-backed coup
against democratically-elected popular leader President Manuel Zelaya.
Indigenous people, social rights fighters and human rights defenders were targeted for murder in the thousands as the country began hemorrhaging migrants - including children - desperate to flee the endemic poverty and crime that earned Honduras the shameful title, "murder capital of the world," under a U.S.-installed neocolonial puppet government.
Honduras struggles with violent drug gangs, one of the world's highest murder rates and endemic poverty.
In recent years, many Hondurans - including children - have attempted to migrate to the United States.
In hopes of stemming this migration, former President Barack Obama's administration in 2015 came up with a plan that included sending hundreds of millions of dollars in additional aid to Honduras, Guatemala and El Salvador.
Congress agreed to provide the money if the governments were found to be taking steps to fight crime and corruption.
Early last week, Nasralla, a former sportscaster and game show host, appeared set for an upset victory over Hernandez.
The
counting process suddenly halted for more than a day and began leaning in favor of Hernandez
after resuming. Opposition leaders said they wanted a recount and have accused the government of stealing the election.
Nasralla, 64, is one of Honduras' best-known faces and is backed by former President Manuel Zelaya, a leftist ousted in a coup in 2009.