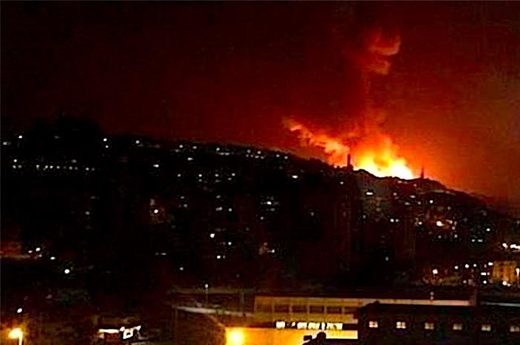 According to earlier reports, Israel has launched a number of airstrikes targeting Syria's territory from Lebanese airspace.
Several
Israeli
ground-to-surface missiles have been intercepted by Syrian forces, while a number of others caused material damage in the area south of Damascus,
the Syrian Al-Ikhbariya TV channel reported.
The missiles hit an ammunition depot of the Syrian army
at 0:30 local time (22:30 GMT on Friday),
causing explosions in the area
between the towns of Kiswah (Kesweh) and Sahnaya, Arab outlet Al-Masdar News earlier reported citing its sources. However, a spokeswoman for the Israel Defense Forces refused to comment on the situation when asked by Sputnik.
Some videos that emerged on social media are claiming to show the moment when the Israeli missiles were intercepted by Syrian Air Defense. [see below]
As for Israeli and Syrian bilateral relations, both of them have
attacked
each other on numerous occasions over the disputed Golan Heights, which were partly seized by Israel during the Six-Day War in 1967. The latest IDF attack on Syria occurred in September 2017,
when the IDF attacked Syrian Arab Army forces in the province of Hama
.