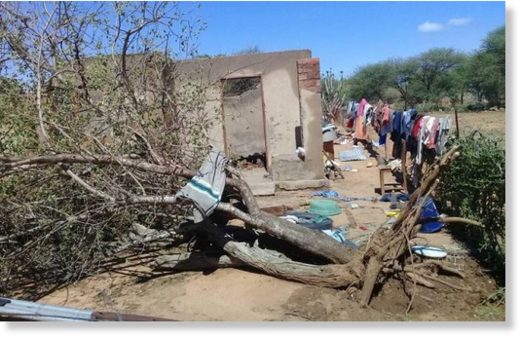 Two people died while 15 others were hospitalised following a hailstorm that swept through Mangwe District, destroying several homesteads.
A 53-year-old man from Mangwe died after a hut he was sleeping in collapsed while a
10-year-old boy was struck to death by huge hail stones
during a storm which hit the area on Saturday night.
Mangwe acting District Administrator who is also the acting chairperson of the Civil Protection Committee, Mr Onismo Zvogara, said about 15 people had been admitted to Brunapeg Hospital after sustaining injuries.
He said the number of affected homesteads was yet to be established as the assessment was still ongoing.
"There is a hailstorm which hit several parts of the district on Saturday night. The worst affected area was Phathisanani Village in Brunapeg Ward. Two people from that village namely Petro Moyo (53) and a Grade Three pupil at Sangulube Primary School, Refilwe Nkomo (10) died during the hailstorm.
"Moyo's bedroom hut collapsed on top of him while he was inside. Rifilwe was alone in a hut when the hailstorm started and he attempted to run to another hut where his parents were.
He was hit by hailstones and they crushed his head.

Several other people sustained injuries and 15 were admitted in hospital while others were treated and discharged. They are however, all in a stable condition. The injuries were varying from head, leg and arm injuries among others," said Mr Zvogara.
He said the District Civil Protection Committee visited affected areas on Sunday for an assessment. He said traditional leaders had been tasked to compile a comprehensive list of the number of affected homesteads and the nature of the damage.
Mr Zvogara said other affected areas were Mabuledi Village in Mphoengs Ward, New line Village and Khalanyoni Village where minimal damage was recorded.
He said offices and staff cottages at Mphoengs Border Post and Mphoengs Police Station were also damaged. He said the roof of a classroom block at Sangulube Primary School was partly damaged.
"We are still assessing the extent of damage so that we can come up with a comprehensive report. So far affected families are in need of food as some of them lost their supplies in the rain. Other families also need alternative shelter as their homes were destroyed," Mr Zvogara said.
Chief Sangulube of Mangwe District whose jurisdiction covers some of the affected areas said the hailstorm started on Saturday at around 7PM and lasted for about three hours. He said the rains left a trail of destruction as many homes were destroyed.
"We experienced heavy rains on Saturday evening. They were accompanied by fierce winds and large hail stones were falling from the sky. A lot of people especially in Phathisanani Village lost their livestock, homes and food.
"It is sad that two lives were also lost because of these rains while a number of people were injured. We were really looking forward to receiving rains but it's unfortunate that they have caused so much damage at an early stage," he said.