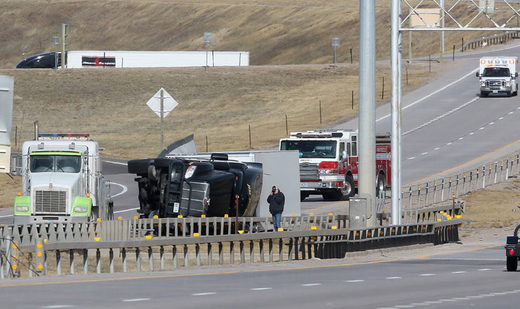 With wind gusts topping 60 miles per hour Monday, semitractor-trailer combinations were tottering and tipping on highways near Cheyenne.
A wind advisory was out most of the day for light, high-profile vehicles, such as trucks with empty cargo compartments.
But despite those warnings,
nine semitractor-trailers had blown over on Interstate 25 between Cheyenne and the Colorado border between 9:26 a.m. and 5:15 p.m.
, according to Lt. David Wagener of the Wyoming Highway Patrol. The interstate was closed for about an hour around 3:30 p.m. to clean up crashes in both lanes, according to emails from the Wyoming Department of Transportation.
Two vehicles also blew over on U.S. Highway 85 between Cheyenne and Colorado, and another tipped farther north at the rest stop at milepost 47 in Meriden, Wagener said.
Camera shots from the Wyoming Department of Transportation on Monday afternoon showed semi trucks parked alongside the highway at many points on Interstate 25.
At around noon, the police scanner came alive with reports of blown-over semi trucks, one of which caught on fire.
Wagener said that in his experience, the number of semi trucks that blew over wasn't abnormal for an especially windy day.
"I've seen that number before," he said.
But on windy days like Monday, the number of crashes "depends on the wind speeds and folks that are operating those high-profile vehicles to heed warnings," Wagener said.
According to the WYDOT website, closures to light, high-profile vehicles are issued when wind gusts top 60 miles per hour and where adequate signage is available.
The warnings are targeted at vehicles such as recreational vehicles, moving vans, campers, small trailers and lightly loaded commercial vehicles.
Not heeding the advisory can earn drivers a maximum $750 fine and/or 30 days in prison.