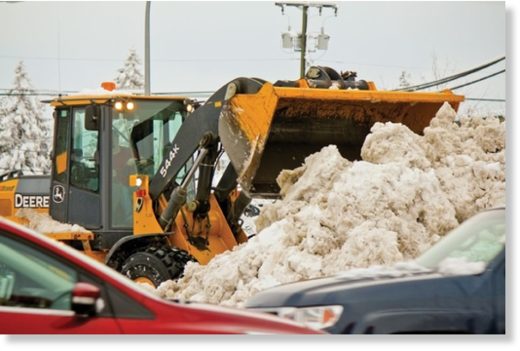 Nothing throws the notion of fall fully out the window and buried out of sight than two new snowfall records.
So, if shovelling the 47.1 centimetres of snow that fell between Nov. 13 and 20 wasn't enough to send you to the chiropractor, how about this for some heavy lifting—nearly half of it came on Nov. 14 and 19.
The first record was broken Nov. 14 when 11.8 centimetres fell, beating the previous daily record of 10.4 set in 1966.

The second was broken Nov. 19 when another 13.4 centimetres fell, beating the previous record of 10 in 2012.
"Last week, the airport was reporting snow every day," Environment Canada meteorologist Lisa West said.
Residents can thank an arctic air mass that refuses to get a clue and move on for all that snow. The snow storms may have passed but it allowed even more cold air to sweep down from the north, plunging the region below -20 C temperatures this week.
To make matters worse, warm air from the southwest is predicted to move through the province this week and perch itself over top all that cold air when it reaches the eastern side of the Rockies.
"With this warm air coming in a loft, we could be looking at tricky driving conditions—anything from ice pellets to freezing rain and then back to snow," West said.
Winter outlook
If this weather report hasn't made you miserable enough to stop reading, it gets worse when looking ahead at the winter outlook.
Both West and meteorologists at the Weather Network are predicting a La Niña winter, with colder than normal temperatures and above normal precipitation
—basically, buy some extra scarves and mitts, and invest in a snowblower if you haven't done so already.
"Weak" La Niña conditions are favoured for the rest of fall and throughout the winter, West said—not relenting until maybe April, or February, if we're lucky.
"So far, that's lined up with what we've seen in November in your area," West said,
noting temperatures this month have been four to 10 degrees below normal.
"Yes, it weights the odds in favour of a colder winter with more precipitation, but doesn't rule out a Pineapple Express."
Chris Scott, chief meteorologist for the Weather Network, says Canada as a whole is in for a "wild ride" this winter.
"Due to a weak to moderate La Niña, this winter is shaping up to have two distinct personalities— while Canadians should brace themselves for periods of high-impact weather and an impressive amount of snowfall, the good news is we should get a mid-winter break," Scott said.
In B.C., colder than normal temps are forecast across the eastern half of the province while the coast will see near-normal temps, according to the Network.
"While winter weather started early in November, it looks like extended periods of cold weather will be more likely during the second half of the winter season with a tendency towards milder conditions during December," its forecast reads.
"The province will see an abundance of wintry weather with excellent ski conditions for much of the season, but this winter will not be as persistent or as severe as it was last year, especially for the south coast of B.C.," it adds.