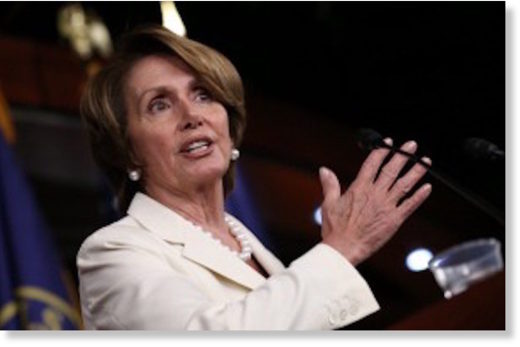 Seven of the ten richest members of Congress are Democrats while only three are Republicans,
according to a recently published analysis done by the Center for Responsive Politics
.
The
analysis was based
on the financial disclosure forms that members of both the House and Senate filed in 2016 and cover their assets and liabilities through 2015.
Rep. Darrell Issa, a Republican from California, was the richest member of Congress, according to the CRS analysis. His estimated wealth was
$330,050,015.
The other two Republicans in the Top 10 were Rep. Dave Trott of Michigan, who ranked No. 5 with an estimated wealth of
$177,149,145
and Rep. Vernon Buchanan who ranked No. 6 with an estimated wealth of
$115,534,558.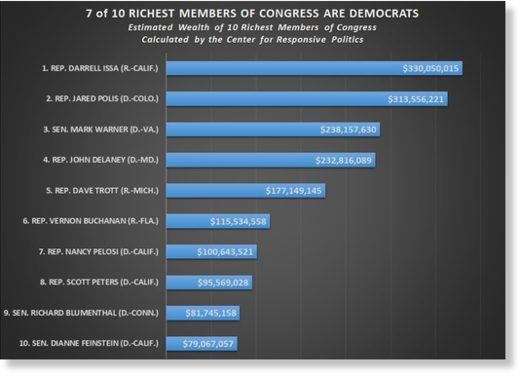 House Minority Leader Nancy Pelosi ranked No. 7 with an estimated wealth of $100,643,521
-and was also one of only seven members of Congress whose estimated wealth exceeded $100 million.
Sen. Mark Warner of Virginia, with an estimated wealth of $238,816,630, was the richest member of the U.S. Senate and the third richest member of both houses of Congress.
The other five Democrats - n addition to Pelosi and Warner - who ranked among the ten richest members of Congress were: Rep. Jared Polis of Colorado
($313,556,221)
, Rep. John K. Delaney of Maryland
($232,816,089)
, Rep. Scott Peters of California
($95,569,028)
, Sen. Richard Blumenthal of Connecticut
($81,745,158)
, and Sen. Dianne Feinstein of California
($79,067,057)
.
Four of the 10 richest members of Congress (Issa, Pelosi, Peters and Feinstein) are from California and two of those four are from the City of San Francisco (Pelosi and Feinstein).
Members of Congress list both their assets and liabilities (within a range of values rather than by a specific value) on their financial disclosure forms. The Center for Responsive Politics estimated the wealth of the members of Congress
by the following method
:
"Net worth was calculated by summing the filer's assets and then subtracting any listed liabilities. Filers report the amount of each of their assets, transactions and liabilities as falling within one of several ranges. The minimum possible values for each asset were added together as were the maximum possible values. Likewise, minimum and maximum liability amounts were summed. The maximum debt figure was then subtracted from the minimum asset figure and the minimum debt figure was subtracted from the maximum asset figure. The resulting range represents the extremes of how much a filer could be worth, and his or her actual net worth should fall somewhere within that range. The midpoint or average of the two limits was also calculated and used for purposes of ranking the filers by wealth."
For more on the CRS's ranking of members of Congress by their wealth,
click here
.