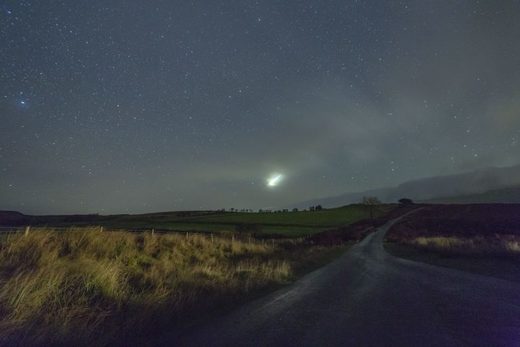 This dramatic fireball appears to tear the night sky apart and bring daylight shining through.
The extremely bright meteor was captured racing past Earth during the Orionids Meteor shower.
In the foreground a quiet country lane winds over the Brecon Beacons National Park.
The photograph was taken by RAF personnel Chris Pomeroy, from Pontypridd in South Wales, just after midnight on October 21.
Chris, 34, said: "I was photographing the Orionids Meteor shower. The camera was set up and I was taking random exposures hoping to capture a meteor.
"During one exposure I captured what seemed at the time, to the naked eye, to be an extremely bright shooting star that lasted only for about a second.
"It wasn't until I got home that I saw it might have been a fireball or something similar."