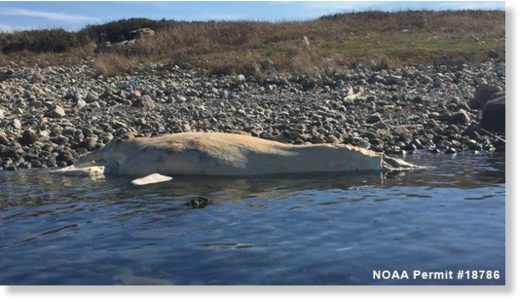 A sixteenth North Atlantic right whale has been found dead off the coast of Massachusetts this week, according to the International Fund for Animal Welfare.
The organization announced late on Monday that the right whale was found dead on a beach near Cape Cod.
There are only about 500 North Atlantic right whales left in the world. The 16 confirmed deaths in U.S. and Canadian waters this year represents about three per cent of the population.
The IFAW said they plan to work with the National Oceanic and Atmospheric Administration to determine the cause of the whale's death.
Over the weekend, whale researchers met in Halifax to discuss the critically endangered marine mammals being found dead this year in waters off eastern Canada and the United States.
Scientists, fishermen, large-vessel operators and Indigenous groups will also be meeting next month in Moncton in an effort to reduce the number of right whale deaths.
That meeting will be hosted by federal Fisheries Minister Dominic LeBlanc.