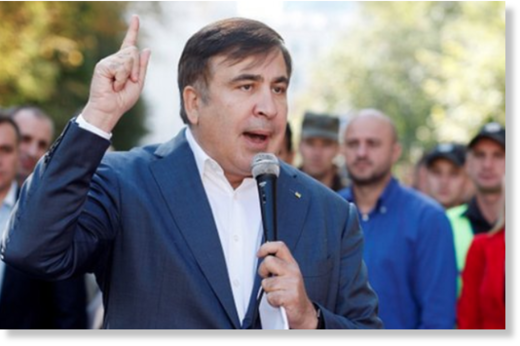 In Odessa, an open meeting of Saakashvili's "New Forces Movement" has concluded. In his speech, the politician proposed to go to Kiev on October 17 to remove the bandit leadership.
"Cut off the head of the octopus," said the ex-head of the Odessa Regional State Administration.
The meeting took place at the monument to Duke de Richelieu [first mayor of Odessa -- tr]. Saakashvili promised that he would build a new Odessa. He also once again called the city council, headed by Mayor Gennady Trukhanov, goons* and bandits.
A total of 500 people came to the meeting. Opponents of Saakashvili tried to disrupt it, but the police did not allow them to break through to the supporters of the politician.
On September 20, Ukraine's Prosecutor General Lutsenko said that Saakashvili must pay a fine for illegally crossing the state border of Ukraine.
Recall that on September 25 Saakashvili announced his intention to "remove" all members of the Cabinet of Ministers of Ukraine during the meetings scheduled for October 17 in the Ukrainian capital.