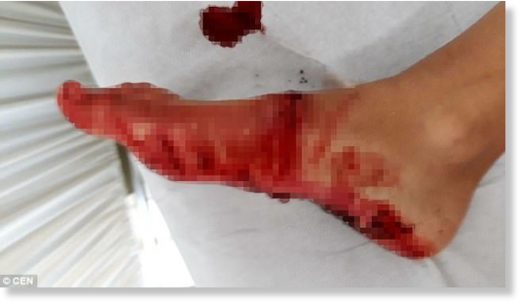 A shark my have been responsible for badly injuring the foot and leg of a boy as he surfed off a Spanish beach.
Pictures of his mutilated foot show tooth-like marks on his leg as well.
It is not clear how the unnamed youth sustained his injuries - with no explanation provided by the authorities.
The Spanish media has only reported that the incident happened off the island of Gran Canaria.
Local officials say that although they were informed of a shark sighting a few days ago, they did not treat the report as being significant.
The Gran Canaria government says that it will now conduct an inspection of the area to ensure the safety of swimmers.
Millions of tourists including Britons visit the Canary Islands every year, with its peak visitor numbers being about seven million recorded in 2007.
There are numerous species of shark off the coasts of the Spanish islands, though they are rarely seen by people.
They include hammerheads, makos and bull sharks along with rays and angel sharks.
Not counting the most recent possible attack, authorities say there have been five shark attacks in local waters in the past 100 years, none of them fatal.
One such attack is believed to have taken place in December 2015, when tourist Cristina Ojeda-Thies tweeted a photograph of what she said were tooth-marks scarring her arm following a shark attack in Gran Canaria.