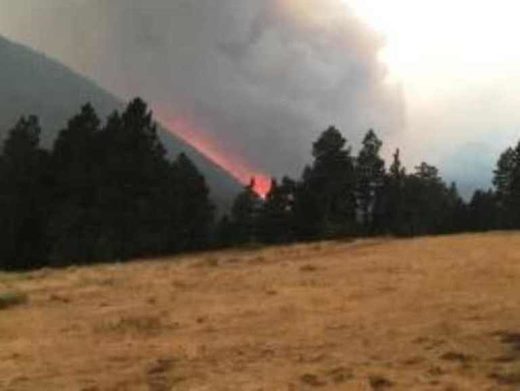 As the country keeps its eyes trained on Houston, another natural disaster is ravaging states far to the north.
With red flag warnings covering 200,000 square miles of Montana, Idaho, Wyoming and the Dakotas saying the danger for new wildfires is imminent, firefighters continue to battle blazes that have burned huge swaths of land.
This summer has been particularly dry and windy for our northern neighbors and a lack of moisture and unfortunate weather has led to hundreds of wildfires burning across Montana, Idaho and northern California.
Rainfall at this point hasn't been much help; lightning strikes on Wednesday sparked at least 40 more in a state already on fire,
according to the Great Falls Tribune
. High winds are pushing the fires and helping them spread.
Firefighter Brent M. Witham of Mentone, California,
died in early August
after a tree fell on the 29-year-old.
Smoke is so heavy in Montana that planes couldn't fly over the fires to check their size or status
, the
Tribune
said on Wednesday.
Back in July, Gov. Steve Bullock
declared a state of emergency in Montana
. The declaration was issued July 24, sometime after the federal government denied the state's request for aid.
Three days later
, the feds reversed their decision and sent FEMA in to help.
"Over the coming days, additional National Guard resources will be mobilized to continue to support the men and women fighting these fires,"
he said
. "Our top priority remains firefighter safety and protecting Montanans and their property."
The town's 1,800 residents have been on high-alert with no end in sight, as new fires crop up every day - ten new ones popped up on Friday alone.
Towns in Montana, Idaho and other high Rocky Mountain areas are being smothered by the smoke from nearby wildfires, including Seeley Lake. The town is near a 34,000-acre fire and,
according to the Great Falls Tribune
, has been near a burning wildfire since July.
The fires have burned up more than 500,000 acres already
, and the smoke from those fires is reaching southward to northern Colorado.
Air quality for the Denver metro area, as well as the Greeley and Fort Collins areas is unhealthy for sensitive groups,
according to the state's website
.
While Colorado and Wyoming are faring far better than parts of Montana and South Dakota, haze is still visible in some areas.
At this point, there's
no
end
in
sight
. With the emergency declaration, Montana's governor is also mobilizing the state's National Guard to try and assist the firefighters in the region.
Fires in rural parts of the state
have destroyed people's homes
and, according to the Associated Press,
the most recent estimates show they've cost the state $71 million so far.