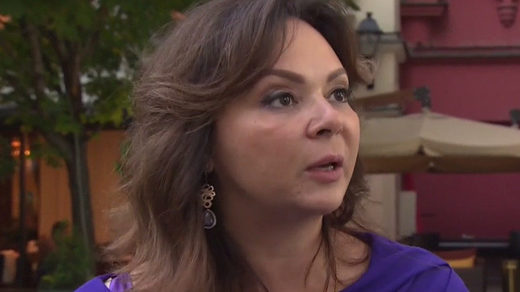 The scandal concerning the meeting between US President Donald Trump's son, Donald Trump Jr, and Russian lawyer Natalia Veselnitskaya was orchestrated by Magnitsky act lobbyist William Browder, the lawyer told RT in an exclusive interview.
"I´m ready to clarify the situation behind this mass hysteria - but only through lawyers or testifying in the Senate," Veselnitskaya told RT.
"I can only assume that the current situation that has been heated up for ten days or so by now is a a very well-orchestrated story concocted by one particular manipulator - Mr. Browder. He is one of the greatest experts in the field of manipulating mass media," Veselnitskaya said.
She went on to say that Browder, who is the founder and CEO of the Hermitage Capital investment company, orchestrated this whole disinformation campaign as revenge for the defeat he suffered in a US court in 2013 from a team of lawyers that included Veselnitskaya.
"I have absolutely no doubt that this whole information [campaign] is being spun, encouraged and organized by that very man as revenge for the defeat he suffered in court of the Southern State of New York in the 'Perezvon' company case," she said.
"He wasn't able to convince the court with his lousy human tragedy that actually never happened, about the fate of a dead man - who he only learnt about after his death."
In 2013, Veselnitskaya was one of the lawyers who represented a Cyprus-based holding company Prevezon, owned by Russian businessman Denis Katsyv, in its defense against allegations of money laundering in a court of the Southern State of New York.
The case was settled with no admission of guilt by Prevezon.
Veselnitskaya also said she is now concerned for the safety of her family as it's been revealed that Browder's team spied on her family's activities even before her meeting with Trump Jr.
"It's been revealed that Mr. Browder and his team have been gathering information about my family," she told RT, adding, that Browder's team "found photos of my house and sent them to Kyle Parker... a famous man in the House of Representatives, who worked for Mr Browder for many years - and not for any congressmen or congress as a whole."
People working for Browder also shared all her personal details with representatives of the State Department, Veselnitskaya said.
Browder has a long history of hostility against Russia. In 2013, he was sentenced in absentia to nine years in prison for tax evasion. He was also the boss of the late Russian auditor Sergey Magnitsky.
According to the 2013 court verdict, Browder together with Magnitsky failed to pay over 552 million rubles in taxes (about US$16 million). The businessman was also found guilty of illegally buying shares in the country's natural gas monopoly, Gazprom, costing Russia at least 3 billion rubles (US$100 million).
Magnitsky died in pre-trial custody in 2009. His death led to a strain in Russian-American relations. US authorities eventually imposed sanctions against Russian officials they deemed responsible for the auditor's death by issuing the so-called Magnitsky list in 2012. Browder also lobbied European states to follow Washington's lead.
The Magnitsky Act is a 2012 law that allows the United States to seize assets from a number of alleged Russian human rights abusers, as well as barring them from entering the country. Russia retaliated by prohibiting American families from adopting Russian children.