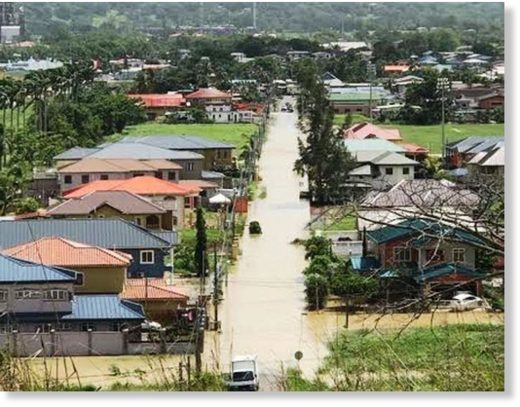 As more rain fell and floodwaters rose on Friday night, not a single house was spared along Kent Street in Williamsville.
Residents said the water rose to eight feet in some areas.
Fire services responded to distress calls at around midnight, the
Express
was told, but officers were unable to enter the village.
The families were still reeling from Tuesday's flooding brought by Tropical Storm Bret, when the rains returned.

Furniture, appliances and clothes were washed away in the floodwaters which ravaged their homes.
Residents said the Guaracara River broke its banks and water began gushing into their homes at around 11pm.
The water receded within 30 minutes, they said, but returned at around 1a.m.
Not a single person has slept since then, the
Express
was told.
When the
Express
visited at around 8.30am, the floodwaters had receded. But slush had covered homes and the roadway.
Gloria Ramgobin, 56, said her washer, dryer, refrigerator and stove were pushed outside by the raging water. Her entire home was destroyed, she said.
Ramgobin who lives with her husband, Kemchand, and 28-year-old daughter Meena, said they scampered to salvage clothes and other valuables as the water began to rise.
"The flood came up around 11p.m. and went down, The river was very high. We started packing everything up. Most of our clothes were already in bags because we had flood on Tuesday. The appliances were washed away in the floodwaters. It was very, very bad," she said.
Ramgobin said her relatives and neighbours assisted in clearing her home and washing away the slush.
Another homeowner, Sanjay Sanesie, said three apartments on the ground floor of his home were destroyed. He said, "When the water started rising we tried to move the appliances to higher ground. But it could not be saved. We lost everything in these apartments. It was a disaster. We were cleaning up from Tuesday's flood when it came again," he said.
Sanesie's elderly father, 81-year-old Roopchand Sanesie, had to be relocated to another house as his bedroom was flooded.
Along the Williamsville Main Road, newlyweds Martin and Sharlene Ramkhawan, most of their belongings to the floodwaters.
Martin Ramkhawan, 28, said he had moved into the house with his wife eight months ago.
"Everything was covered in flood waters. We lost furniture, appliances, foodstuff, everything. It was really bad. We recently got married and moved into this house. Now we have to start again from the beginning. It is very hard," he said.
Next door, auto mechanic Partap Seekumar blamed indiscriminate dumping of garbage for the flooding.
He said the river overflowed into his garage destroying vehicles and parts. "I have a man's Benz here. He dropped it to repair. All these parts destroyed. I lost close to $100,000 here because now I have to sell all these parts as scrap iron," he said.
By 11am, the
Express
was told that neither the Office of Disaster Preparedness and Management (ODPM) nor any State agencies had responded to assist residents.
Residents of Union Park East, Marabella, were also affected by flooding on Saturday.
The floodwaters claimed the main roadway and connecting streets leaving residents marooned in their homes.