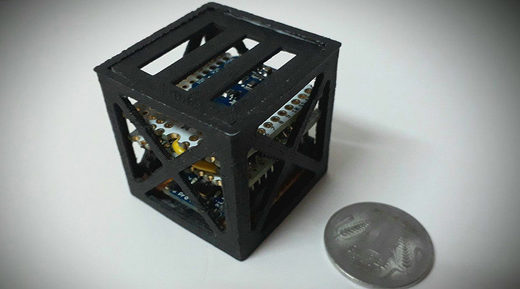 NASA has launched the world's lightest satellite into space, designed by an 18-year-old Indian student. The instrument, which weighs just 64 grams, is also the first satellite to be 3D printed.
The 'KalamSat' satellite, named after India's former President APJ Abdul Kalam, also a nuclear scientist, was launched from NASA's Wallops Flight Facility in Virginia on Thursday.
"Today we made history," the satellite's designer, 18-year-old Rifath Shaarook,
told
ANI news agency.
"We designed it completely from scratch. It will have a new kind of onboard computer and eight indigenous built-in sensors to measure acceleration, rotation and the magnetosphere of the Earth,"
Shaarook
told
Business Standard
last month, noting that fellow students helped him build the satellite.
Shaarook and his team were selected for the project through a competition called 'Cubes in Space', jointly sponsored by NASA and global education company I Doodle Learning. The project was funded by an organization called Space Kidz India.
"The main challenge was to design an experiment to be flown to space which would fit into a four [centimeter] cube weighing 64 grams," he said, referring to the competition requirements.
The cube satellite is 3D printed with reinforced carbon fiber polymer and equipped with a nano Geige Muller counter to measure radiation in space.
The satellite separated from the NASA sounding rocket 125 minutes after lift-off, Srimathy Kesan of Space Kidz India, who supervised the project, told the
Times of India.
"KalamSat fell into the sea. It will be recovered and NASA will be sending it back to us for decoding the data," Kesan said.
"We are looking to inspect the 3D structure, after that we are eager to collect the data on the onboard computer," Shaarook, who comes from a small town in Tamil Nadu, told ANI.
The satellite was initially scheduled to be launched on Wednesday, but the mission was postponed due to weather.