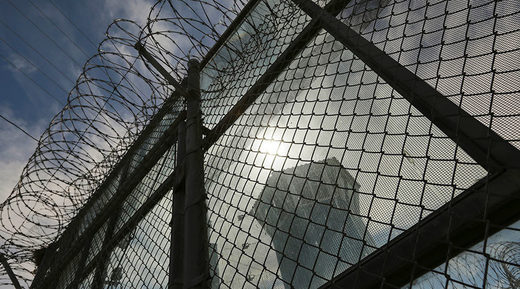 A jury has convicted three Santa Clara County correctional officers of murder for the fatal beating of a mentally ill inmate. The jury remained deadlocked, however, on charges alleging the guards assaulted another inmate.
On Thursday, Jereh Lubrin, 30, Rafael Rodriguez, 28, and Matthew Farris, 28, were all found guilty of beating Michael Tyree to death, according to a
press release
from the District Attorney's office. All three are facing 15 years to life in prison. They are scheduled to be sentenced on September 1.
"Michael Tyree's tragedy was worthy of our outrage, his death will never be invisible," District Attorney Jeff Rosen said in a
statement
. "We will think of him as we work toward making the justice system a better, more fair and safe place for the vulnerable men and women suffering from mental illness."
The three guards, who have been out on $1.5 million bail each, were taken away in handcuffs after the verdict.
According to an internal
investigation
conducted shortly after Tyree's death, Sheriff Laurie Smith said that the guards entered his cell on August 26, 2015. Soon after, they heard Tyree screaming, "I'm sorry. I'm sorry. Stop." Smith describes Tyree's screaming, which he says could be heard "throughout the pod for several minutes and was accompanied by the sound of thumping, wall banging and what sounded like blows to a person's body."
Smith said Tyree sustained several injuries, the most significant of which caused damage to his spleen and liver. The medical examiner estimated the internal bleeding from his injuries was so severe that he died within minutes of the trauma.
The officers then left Tyree's cell and continued to conduct searches of other cells without calling for medical assistance, Smith said. Hours later, Lubrin and Rodriguez entered the cell to find Tyree covered in his own feces and vomit. He was pronounced dead within minutes.
Smith said the three guards were the only ones with access to Tyree's cell that night.
Defense attorneys argued that Tyree's injuries could be consistent with a fall from his toilet and said that the medical examination and subsequent investigation were rushed.
The jury saw evidence from the guards' text messages, where they boasted about beating inmates in areas of the jail that were not covered by security cameras, according to
KRON
.
Additionally, the jury was shown evidence from Rodriguez's search history on the morning after Tyree was found dead in his cell, which included inquires such as: "Can you die from punches to you," "Can you die if someone punches you in the armpit," and "Can you die if someone punches you in the rib."
The guards were also charged with assaulting a 48-year-old schizophrenic inmate, Juan Villa, the night that Tyree died. However, those charges ended in a mistrial.
At a press conference after the verdict was handed down, Santa Clara County Sheriff Laurie Smith, who oversees the jails, said that the actions of the three guards "tarnished the reputation of this profession and of our entire agency."
"Conversely, I stand behind the hard work and dedication of the 1,400 deputies who perform their job every day to the highest standards and do the right thing," Smith said, according to the
San Francisco Chronicle
.
In December, the court settled a $3.6 million civil rights and wrongful death lawsuit with Tyree's family.
"Michael was a human being. Those jurors recognized that. He was loved. He mattered then and he will continue to matter with this verdict," Shannon Tyree, the victim's sister, said. She thanked the prosecutor Matt Braker and the District Attorney's Office who, she said, "made the impossible possible today."