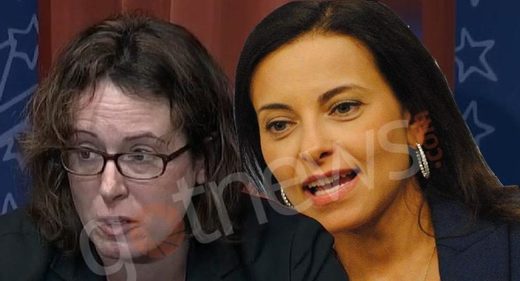 Presidential Adviser Dina Habib Powell can't stop betraying President Donald J. Trump by leaking to
New York Times
White House Correspondent Maggie Haberman, according to sources close to GotNews and patriot pundit Mike Cernovich.
Dina Habib Powell is only the latest national security threat in the White House GotNews has exposed. In February, we
revealed
Deputy Chief of Staff Katie Walsh as a White House leaker to the
Times
's Haberman, resulting in Walsh's firing.
On Tuesday, GotNews
revealed
Powell to be a leaker, and can now report
Haberman received classified information from her
.
We will be revealing more about Trump administration leaks in the near future.
Cernovich has long-time Democrat operative Maggie Haberman figured.
In Jan. 2015, Hillary Clinton's then press secretary, Nick Merrill, wrote that
Haberman was crucial to "teeing up" yarns that propelled Hillary's presidential candidacy while Haberman was at Politico
.
An
email
from Merrill addressed to the Clinton inner circle—among emails from Clinton campaign chairman John Podesta that WikiLeaks obtained—reads:
[W]e feel that it's important to go with what is safe and what has worked in the past, and to a publication that will reach industry people for recruitment purposes.

We have has a very good relationship with Maggie Haberman of Politico over the last year. We have had her tee up stories for us before and have never been disappointed. While we should have a larger conversation in the near future about a broader strategy for reengaging the beat press that covers HRC [Hillary Rodham Clinton], for this we think we can achieve our objective and do the most shaping by going to Maggie.
Also included in Merrill's email was Clinton surrogate Huma Abedin, enabler of
her pervert husband
, and disgraced New York Congressman, Anthony Weiner.
Why does President Trump want a National Security Council staffer like Powell leaking to his foes in the media, daresay anyone else?
A leaker like Dina Powell shouldn't be advising the president on national security. She should, according to
the law
, be in prison—for up to 10 years!
The
New York Times
, Haberman's propagandist employer, has failed to endorse a Republican presidential candidate for 60 years.