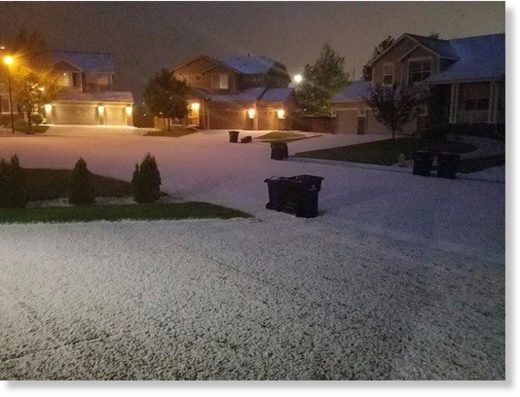 Rain, heavy at times, drenched downtown Denver on Wednesday night as hail pelted several areas in northern Colorado and snow fell in the mountains.
A strong thunderstorm band swept through the Denver area between 9 and 10 p.m., bringing heavy rain, up to an inch per hour in some areas, along with hail in some spots, according to the National Weather Service.
Pea-size hail fell in the Dacono area along the I-25 corridor north of Denver at about 8:50 p.m.
to a depth of 4 inches, according to the weather service.
Snow levels along the Wyoming state line dropped down to 7,500 feet in elevation about 8 p.m. Wednesday.
Lightning flashed across the night sky Wednesday as rain and hail swept through the area.
Snow has been falling and is expected to continue Thursday and Friday, in parts of the northern mountains and northern Front Range foothills.
A winter storm warning, in effect at midnight Wednesday, will run through 6 p.m. Friday for parts of the Colorado mountains, including the I-70 corridor along the Continental Divide.
Up to 36 inches of new snow could fall
on eastern-facing slopes, including in Rocky Mountain National Park, the weather service reports.
Other areas could see new snow accumulations of 12 to 24 inches.
Visibility will drop below a quarter-mile at times during peak snowfall, and travel will be difficult. New snow could take down trim limbs, causing power outages in some areas.
In Denver, the best chance for snow will be overnight Thursday into Friday.
"Significant snow for the Denver area is possible," the weather service warns.
On Thursday in Denver the high temperature should top out at 44 degrees, with winds gusting to 21 mph. The chance of precipitation Thursday in Denver is 90 percent.