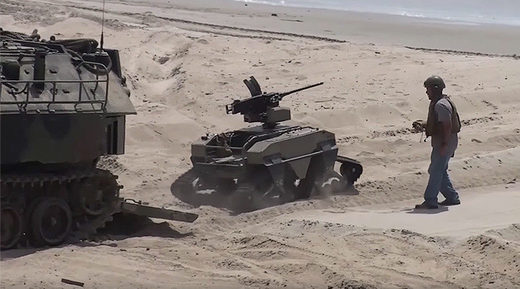 Around 50 advanced weapons are being tested by the US Marine Corps, from a speedboat-submarine to smart robots able to carry 600lbs. The new technology could revolutionize amphibious armed conflict.
Testing has been ongoing for the past two weeks at Camp Pendleton in California, as part of the Ship-to-Shore Maneuver Exploration and Experimentation Advanced Naval Technology Exercise 2017, Fox News
reported
Thursday.
From quadcopter drones to surf and sand-ready weaponized autonomous vehicles, the US Navy and Marines are seeking to avoid detection, conduct surveillance, free up manpower and ultimately lessen the risks that come with storming beaches. They are expected to narrow down what's needed most from roughly 50 machines being tried out.
Not long ago, a hybrid speedboat-submarine would have sounded unfathomable - but now it's known as The Fathom. Also called the HyperSub by its creator, Reynolds Marion, it can reportedly carry out reconnaissance in rapid fashion with the ability to repeatedly make dives, despite pressure changes.
"I just always figured it would be a good idea as a kid to be able to have a really cool speedboat that could go out and dive when you wanted to dive," Marion
told
CBS News.
Along with being able to lift 30,000lbs, the HyperSub has two 480-hp Yanmar 6LY3-ETP diesel engines that reach a cruising speed of 38 miles per hour, Fox News reported. It also comes with a customizable dry chamber, where the operators sit.
A similar hybrid, a solar- and wind-powered sailboat-submarine type vehicle known as Submaran, is also reportedly being tested.
Quite possibly even more revolutionary are the unmanned MUTTs, or Multi-Utility Tactical Transports. Produced by General Dynamics, they are machinegun-ready marine robots about the size of an all-terrain vehicle (ATV).
The 8x8 or 6x6 wheel tracking on the MUTTs allows them to overcome steep inclines in sand. Soldiers would be freed up by the autonomous vehicles that can haul around 600lbs. Fox News reported the weapons tested on them to include the 84lb Browning M2 .50 caliber machine gun, the belt-fed fully automatic FN Hershel 240B medium machine gun, and the Squad Automatic Weapon M249.