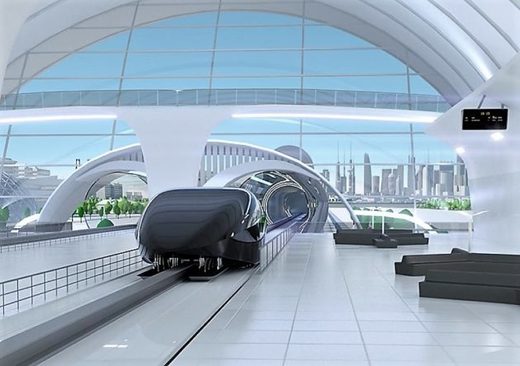 A fledgling venture called
Pacific Hyperloop
is kicking off its effort to win support for a high-speed transit link between Seattle and Portland, using the Hyperloop system envisioned by SpaceX billionaire Elon Musk.
The plan calls for creating a network of tubes capable of zipping passengers from the Jet City to the Rose City in 15 minutes, thanks to pods that travel at the near-supersonic speed of 760 mph.
Pacific Hyperloop is among
35 semifinalists in the Hyperloop One Global Challenge
, a contest set up by California-based Hyperloop One for proposals to set up transit networks in various regions of the world.
The semifinalists include 10 other teams from the United States, plus international groups proposing high-speed links in locales ranging from Vancouver, B.C., to China and India.
"We will be giving our finalist presentation on April 5th and 6th in Washington, D.C., in front of Hyperloop One and government officials," Richard Kim, Pacific Hyperloop's director of marketing and public relations, said in an email to Geekwire, "If/when we become a finalist, Seattle and Portland will be the starting grounds for Hyperloop's innovation and prominence."
The group, founded by University of Washington students, is just getting off the ground. One of the founders, M.B.A. student
Ahmed El Ayouti
, has eight years of experience at Boeing. Another founder, Charlie Swan, was part of the UW Hyperloop team that competed in a
contest organized by Musk and SpaceX in California
.
Pacific Hyperloop is consulting with advisers from the
Cascadia Center
and the
Washington State Transportation Center
, but it hasn't yet picked up backing from regional officials or investors.
When Musk
came up with the Hyperloop concept in 2013
, he saw it as a means to get from the Bay Area to L.A. in a little more than 30 minutes for $20. But he left the job of commercializing the concept to others, including Hyperloop One. Musk currently has no role in any of the commercial ventures.
Hyperloop One is aiming to begin operations
in the United Arab Emirates
by as early as 2020. The company
raised $160 million
as of last October, and is said to be
hunting for tens of millions of dollars more
. Just last week, Hyperloop One
showed off pictures of its progress
on a 0.3-mile-long
test tubeway in the Nevada desert
.
The global challenge may help the company focus in on promising candidates for future expansion.
In its
online pitch
, Pacific Hyperloop emphasizes the Seattle-Portland corridor's prominence in technological innovation, led by such companies as Microsoft, Boeing, Expedia, Starbucks, Nike and Amazon.
"We have a booming tech industry and a forward-thinking government that is known for pushing the envelope," the group says. "Hyperloop makes sense in the Pacific Northwest."
Pacific Hyperloop also referred to the region's traffic challenges.
"Seattle and Portland are known for having some of the worst traffic in America (No. 4 and No. 7 respectively)," the group notes. "Implementing Hyperloop would not only alleviate traffic on highways for others, but also create a consistent and reliable commuting experience that would not be affected by factors like car accidents or crazy weather."
The group is calling on regional residents to register their support for the Hyperloop concept by signing
its online petition at Change.org
.
This map shows one potential route for a Seattle-Portland Hyperloop. Click on the image for a larger version.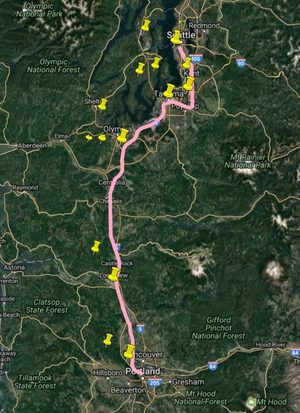 For decades, transit issues have been a tough nut to crack for the Seattle region, but recently there have been signs of movement: Last year, voters approved a
$54 billion ballot measure
to expand the region's transit infrastructure over the next 25 years.
Civic leaders have also talked about developing a
high-speed rail system
(or
dedicated lanes for autonomous vehicles
) in the Portland-Seattle-Vancouver corridor.
Tom Alberg, co-founder and managing director of Seattle's
Madrona Venture Group
, has come to favor autonomous vehicles over high-speed rail.
"I have always been attracted by the idea of one-hour or less rail service with Portland and Vancouver, B.C., but increasingly question its financial feasibility, particularly now that autonomous vehicles (autos, buses, vans and trucks) will provide a cost-effective alternative in a shorter time frame," he told GeekWire.
"Autonomous vehicles provide service directly from your office or home to your exact destination without having to transfer at a station and, although slower than high-speed rail, will provide a comparable comfortable experience where you can work, be entertained or relax," Alberg explained in an email.
It's by no means a sure thing that Pacific Hyperloop will be making 15-minute trips from Seattle to Portland a reality anytime soon, even if it moves forward in the Hyperloop One Global Challenge. But the added attention should get the region's residents thinking deeper - and perhaps eventually, moving faster.