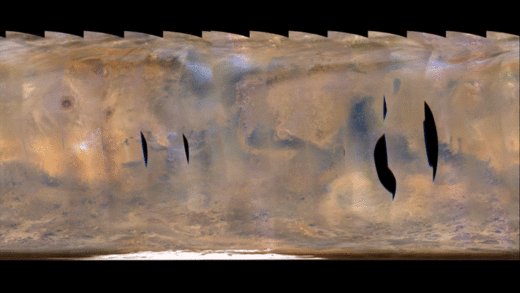 If you think the weather is bad on Earth, spare a thought for Mars.
NASA
has revealed a stunning animation showing massive dust storms the size of America engulfing huge swathes of northern Mars.
The summer storms 'explode' in size, NASA says - and some can engulf the entire planet.
The latest images show the regional dust storm currently swelling on Mars follows unusually closely on one that blossomed less than two weeks earlier and is now dissipating.
Images from the orbiter's wide-angle Mars Color Imager (MARCI) show each storm growing in the Acidalia area of northern Mars, then blowing southward and exploding to sizes bigger than the United States after reaching the southern hemisphere.
'What's unusual is we're seeing a second one so soon after the first one,'
said Mars meteorologist Bruce Cantor of Malin Space Science Systems, San Diego, which built and operates MARCI.
'We've had orbiters watching weather patterns on Mars continuously for nearly two decades now, and many patterns are getting predictable, but just when we think we have Mars figured out, it throws us another surprise.'
Video clip
here
The team provides forecasts to aid rover teams, and to plan to try and spot megastorms.
A planet-encircling Martian storm last occurred in 2007.
Researchers have watched effects of the latest storms closely.
'We hope for a chance to learn more about how dust storms become global, if that were to happen,' said David Kass of NASA's Jet Propulsion Laboratory, Pasadena, California.
'Even if it does not become a global storm, the temperature effects due to thin dust hazes will last for several weeks.'
Cantor reported the second of the current back-to-back regional storms on March 5 to the team operating NASA's Mars Exploration Rover Opportunity.
The earlier storm, which had become regional in late February, was dissipating by then but still causing high-altitude haziness and warming.
'There's still a chance the second one could become a planet-encircling storm, but it's unlikely because we're getting so late in the season,' Cantor said this week. All previously observed planet-encircling dust storms on Mars occurred earlier in the southern summer.
The rest of the article can be seen
here