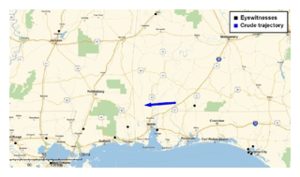 Local 15 has confirmed with NASA that a bright meteor was seen just after 9 p.m. Saturday.
Saturday night reports began circulating on social media about a large fireball in the sky and a loud boom.
Residents in Southern Alabama reported that they heard a loud boom that shook their homes. NASA says that the fireball first appeared to the Northeast of Mobile and moved west at about 56,000 miles per hour.
The average brightness is that of the Full Moon, leading experts to believe that it was probably about a foot or two in diameter. Using eyewitness reports and a software tool to derive a ground track NASA was able to conclude that the best reports indicate the meteor broke apart above U.S. 43, just North of Mobile.
The reports of sound indicate that it
penetrated fairly low into the atmosphere before fragmenting, perhaps as low as 14 miles in altitude.
We will continue to update this story as we gather more information. If you have pictures or video send them to
Burst.com/Local15