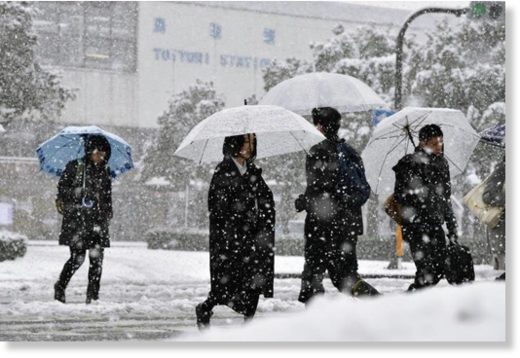 Heavy snow plastered much of the Sea of Japan coast on Friday as a cold wave hit the archipelago, disrupting transportation and causing power outages.
The Meteorological Agency warned the snowfall could continue through Sunday and spread to the Pacific coast.

In Kurayoshi, Tottori Prefecture, around 1,300 households lost power after a snow-laden tree fell onto a power line, Chugoku Electric Power Co. said.
Snow also prompted West Japan Railway Co. (JR West) to suspend part of the Inbi Line in Tottori and Okayama prefectures and part of the Geibi Line in Hiroshima Prefecture. Delays were also reported on the Sanin Line.
A glitch apparently caused by snow also left around 40 passengers in a cable car to Mount Koya trapped for about 90 minutes in the town of Koya, Wakayama Prefecture, Nankai Electric Railway Co. said.
In central Japan meanwhile, the Tokaido Shinkansen Line run by Central Japan Railway Co. (JR Tokai) was running at reduced speed between Nagoya and Shin-Osaka stations.
There were also closures on sections of the Yonago and Hamada expressways in western Japan, according to the Japan Road Traffic Information Center.
Over a 24-hour period through Friday morning, more than 40 cm of snow had fallen in parts of Hiroshima, Shimane and Tottori prefectures.
Over the 24-hour period through 6 a.m. Saturday, up to 100 cm of snow is forecast to hit the Chugoku region, while 80 cm is expected in Kinki,
60 cm in Hokuriku, 50 cm in Tokai, 40 cm in the Tohoku, 30 cm in Shikoku and 20 cm in the Kanto-Koshin and northern Kyushu regions.