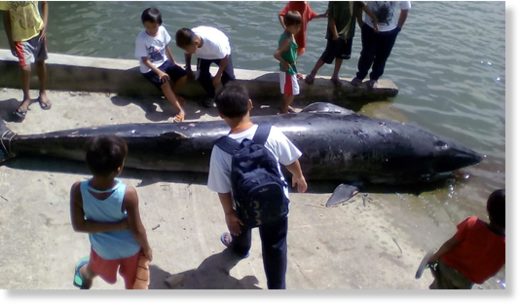 A sperm whale, commonly known as balyena, was found dead in Barangay Sawang, Buenavista, Guimaras.
It was already decomposing when Barangay Kagawad Rex Camarista discovered it around 3 a.m. on Wednesday, the Philippine Coast Guard said.
The marine mammal was 4.5 meters long and weighed an estimated 500 kilograms, Lieutenant Commander Ramil Palabrica, head of the Coast Guard-Iloilo, told Panay News.
It was found 700 meters away from the Sawang shoreline, Palabrica said.
Personnel from the Coast Guard substation in Buenavista and the Provincial Environment and Natural Resources Office retrieved the sperm whale's body and transferred it to the McArthur Wharf.
Local Environment officials claimed what was found in Buenavista was an endangered species of sperm whale.
They have yet to determine the cause of the marine mammal's death as of this writing.
Photos provided by the Coast Guard showed what appeared to be holes across the body of the sperm whale.