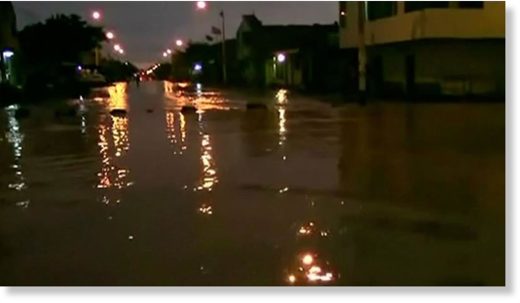 The past few days have seen flooding across parts of South America. Chile has been badly affected. So too have Bolivia and Peru.
Central Bolivia has been pounded by torrential downpours which have caused severe flooding, destroying homes and causing at least one injury.
La Paz had 24mm of rain on Wednesday, and 37mm in the past two days. This makes up more than a quarter of the January average which is 137mm.
The rainfall was a good deal heavier 380km to the east of the capital. The rain fell intensely for 10 minutes, causing rivers to overflow near the town of Villa Pagador in Cochabamba.
This is the third time in recent years a severe flood has hit the town.
The water coursed down from the top of the hill, dragging stones, branches and mud.
Witnesses said the driver of a minibus was injured when the river dragged his vehicle for more than 50 metres.
"The water flipped the vehicle several times. We thought that the driver was dead but he was just a little banged up and now is in the hospital," said a resident.
The local government said that emergency crews were deployed to assist affected residents.
It was a similar picture across the border in southern Peru, where heavy rain caused widespread flooding in the city of Ica. Here rivers bursting their banks as authorities told residents to brace themselves for more bad weather
The areas of Tinguina and Parcona were badly affected. The water has covered several blocks in the city, reaching a depth of 70cm in places according to local media reported.
The town of San Idelfonso, which is lies next to the river, was the most affected. Strong muddy water currents were seen crashing down city streets.
Meanwhile, the town of Pisco, located to the south of capital Lima, has also being hit by mudslides after heavy rainfall.
Residents were seen trying to remove slushy mud from inside their homes. This comes after a recent drought.
The National Service of Meteorology and Hydrology, Senahmi, reported that heavy rains will continue and will increase in the coming months, until April, affecting the centre and south of the country. More landslides are also seen as possible.
Source: Reuters