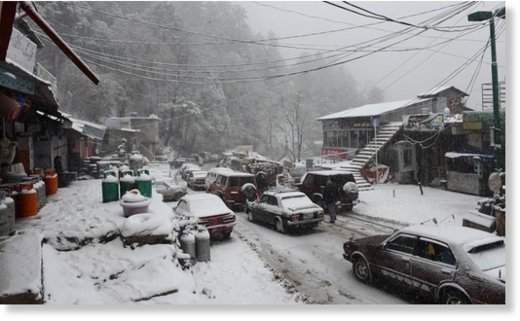 Food shortages caused by blockade of a main road owing to heavy snowfall in Kaghan valley have triggered migration of local people to plains of Hazara division.
The residents of upper parts of Kaghan valley continued to migrate to Balakot, Mansehra, Abbottabad and other parts of Hazara owing to shortage of food items following blockade of Mansehra-Naran-Jalkhad road.
"We have relocated our police station in Kaghan to Mahandri area of Balakot tehsil as
local people have been migrating to lower parts of Hazara because of heavy snowfall and blockade of roads in the upper reaches
," SHO Tariq Khan told reporters.
Mr Khan said Gattidas, Baiser, Barawai, Battakundi, upper and lower Soch and Saiful Muluk Lake posts had already been closed, and now Kaghan police station was relocated.
Hotels in the Kaghan valley have also been closed following the heavy snowfall.
"Our hotels are closed since start of the snowfall and now watchman and other staff are leaving Naran because of heavy snowfall in the valley," Saith Matiullah, president of hoteliers association, Kaghan, told reporters.
He said Kaghan-Naran section of Mansehra-Naran-Jalkhad road remained closed since last week.
Meanwhile, the Hazara and Malakand divisions continued to receive heavy snowfall on the second day on Sunday, blocking several link roads.
Snow started falling early on Saturday in Kaghan valley, Siren, Konsh in Mansehra, Kandia valley in Kohistan and Torghar, and continued intermittently on Sunday, dipping temperatures below freezing point.
Parts of Mansehra, Torghar and Kohistan also received rain on Sunday.
In Mingora, residents of upper Swat complained about facing multiple problems owing to closure of link roads to their areas following heavy snowfall.
Many hamlets and small villages in Mankiyal, Kalam, Gabral, Ushu and Matiltan remained inaccessible due to heavy snowfall.
"This year a record snowfall has been recorded in our area which pushed the temperatures to minus 18.
The heavy snowfall has blocked the only link road to our area due to which shortage of daily use commodities has surfaced in our village, Attur Rehman, a resident of Shaho village, told
Dawn
.
He said the villagers walked up to two to three kilometres to reach Kalam Bazaar to buy food items and medicines.
Residents of snow-bound areas accused the forest department of not allowing them to pick firewood from forests to keep them warm.
Transporters also complained about increase in the prices of petrol and diesel.
In Shangla, it heavily snowed in the hilly areas, while rain lashed the plains on Sunday afternoon. The snowfall blocked link roads in upper parts of the district.
Yakhtangy, Ajmeer, Spen Ghar, Gamtal, Kandaw, Shangla top and other areas received heavy snowfall, while Bisham city, Alpuri, Chakesar, Karora, Puran, Dandai, Kamach and Shahpoor received rain.
Locals complained the authorities had failed to reopen the roads blocked by snowfall over a week ago.
Haji Sultan Nabi, a district council member from Kamach Nusrat Khail, said
three to four feet of snow had fallen in the area.