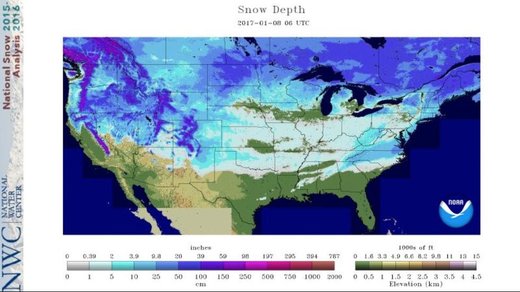 Snow and ice covered the ground in 49 of 50 states this weekend in the wake of Winter Storm Helena.
An analysis of snow cover across the Lower 48 showed that
only Florida had no snow or ice on the ground
Saturday into early Sunday morning,
according to the National Operational Hydrologic Remote Sensing Center (NOHRSC)
.
It should be noted that in this depiction of snow cover, sleet accumulations may be shown as well. This is the case for parts of the South after Winter Storm Helena.
The NOHRSC analysis says that 66.4 percent of the Lower 48 was covered by snow or ice as of Sunday morning. That's the highest coverage so far this winter season in the U.S.
Some of the deepest snowpack across the nation was in the northern Plains, Great Lakes snowbelts, northern Maine and the mountain West.
If you are wondering about Hawaii, yes, there was snow on ground there too. This satellite image shows the snow-capped volcanic peaks of Mauna Kea and Mauna Loa on the Big Island on Saturday.
While warming temperatures this week will melt a good deal of this snow in the South and East, more snow will blanket the mountain West and the nation's northern tier from
Winter Storm Iras
. A late-week wintry mess may also be in the cards for late this week into next weekend in the Plains and Midwest.
Thanks to the National Weather Service in Amarillo, Texas,
for first pointing out the widespread snow cover in a tweet Saturday
.