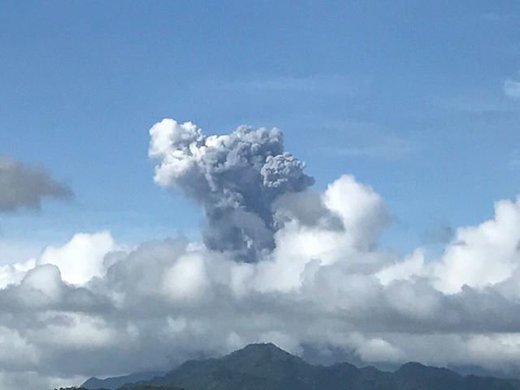 A two-kilometer-high ash plume formed over Bulusan Volcano in Irosin, on Thursday afternoon, according to the Philippine Institute of Volcanology and Seismology (PHIVOLCS), the latest display of the mountain's continuing restiveness.
The plume was caused by a phreatic eruption that occurred at 2:40 pm and lasted some 16 minutes, according to the agency.
In its Twitter account, PHIVOLCS said that Alert Level 1 (abnormal) remains in effect over Bulusan.
It advised local government units, civil authorities, and the public to avoid entry into the vicinity of the volcano.
Meanwhile, the Civil Aviation Authority of the Philippines (CAAP) said that it has issued a Notice to Airmen (NOTAM), which alerted pilots of the incident.
"CAAP, in its advisory, urged pilots flying near the area to exercise extreme caution," said CAAP spokesman Eric Apolonio.
The NOTAM is effective as of 3:30 pm, and is valid for 24 hours.
TJD, GMA News