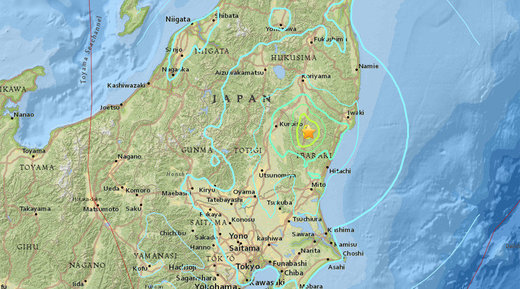 An earthquake has struck the eastern coast of Japan, with early reports suggesting a magnitude 5.9 quake, according to the United States Geological Survey (USGS).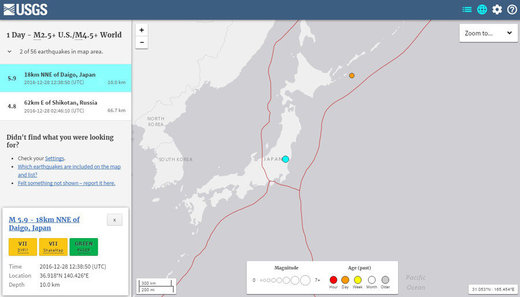 The Japanese Meteorological Agency (JMA) earlier
put
the magnitude at 6.3 and reports the quake had a depth of 10km.
Reuters reports that no tsunami warning has been issued as a result of the quake.
The epicenter was
reported
as Ibaraki Prefecture in central Japan, about 170 kilometers north of the capital Tokyo, and near the town of Daigo. The prefecture has a population of about three million people.
Japan's NHK news agency report that tremors were felt throughout "wide areas" of the east coast, although it is unclear how much damage has been caused.
NHK
reports
that the JMA will hold a press conference at 11:45pm local time to provide further information on disaster prevention and earthquake activity.
In 2011, the 9.0 magnitude Tohoku earthquake caused large scale destruction of Japan's Fukushima Daiichi nuclear power plant, which remains one of the biggest environmental disaster zones on the planet.
The Tokyo Electric Power Company, which is currently decommissioning Fukushima's destroyed reactors, has released a statement saying they are investigating the latest earthquake's impact on its facilities.
"At the moment, we have not confirmed the impact of the earthquake on our main power facilities (including nuclear power plants)," the statement read.
Japan's Nuclear Regulatory Authority says there has been no abnormal activity at the Tokai nuclear power plant in the Ibaraki prefecture in the wake of the earthquake, according to local reports.