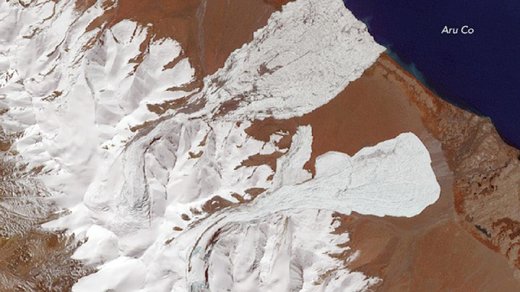 Glaciologists were just beginning to wrap their heads around an enormous ice avalanche
that occurred in Tibet on July 17
. Then, on Sept. 24, it happened again, and scientists are struggling to figure out why.
The two avalanches occurred at Tibet's Aru Range,
just a few kilometers apart
, according to NASA's Earth Observatory. What's strange about the avalanches - the first of which killed nine people - is that temperatures were close to average leading up to the slides, and the glacier sat on fairly flat terrain, the report added.
"Even one of these gigantic glacier avalanches is very unusual," Andreas Kääb, a glaciologist at the University of Oslo, told NASA.
"Two of them within close geographical and temporal vicinity is, to our best knowledge, unprecedented."
Scientists with the International Association of Cryospheric Sciences and the International Permafrost Association have been working to determine what caused these difficult-to-predict ice avalanches. According to NASA, it's believed that the avalanches were primed by a phenomenon known as surging, which occurs when ice from a glacier
moves 10 to 100 times faster than normal
, flowing rapidly down from the upper part of the glacier.
A combination of data collected from the glacier and computer simulations suggest that the first surge began late last year and stalled when it reached a narrow valley. But that may have allowed water to build up inside and underneath the glacier, making it more likely to collapse, and images taken by the Advanced Spaceborne Thermal Emission and Reflection Radiometer (ASTER) on NASA's Terra satellite support those claims.
Just days before the second avalanche, the team of scientists noticed signs that a second slide appeared to be imminent, NASA also reported, and the team attempted to warn Chinese scientists and government officials. But the glacier collapsed just hours before the warning arrived, the report added.
Scientists continue to look for the exact cause of the avalanches, but they have not yet ruled out climate change as a possible factor.