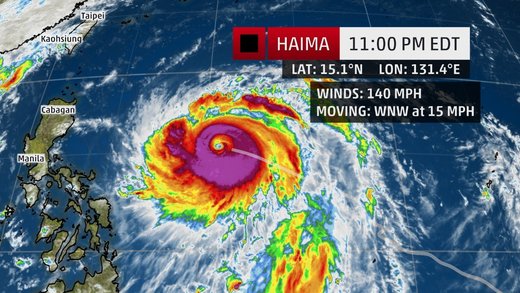 Typhoon Haimi bore down on the Philippines Tuesday, with the country's northern island of Luzon bracing for strong winds and heavy rainfall that could trigger landslides in the mountainous region, forecasts say.
The storm is expected to become a super typhoon -- with winds over 150 mph (240 kph) -- in the next 12 to 24 hours and make landfall Wednesday night.
It's currently the equivalent of Category 4 hurricane -- the second-most powerful in the ranking. "Since this storm is very strong where, or if, it makes landfall in the Philippines will be very important.
The area around the center will have extreme damage from the winds as well as a significant storm surge," said CNN Meteorologist Taylor Ward. Haimi is then expected to veer northwest and hit the Chinese coast by Friday evening.
"Current projections take the storm into eastern Guangdong Province, to the east of Hong Kong, but we will keep a close eye on Hong Kong in the coming days as some models take the storm fairly close," said Ward.
Sarika
Haimi will be the second storm system pounding the Philippines this week. Typhoon Sarika crossed the archipelago north of Manila Sunday and has made landfall on the Chinese island of Hainan.
Schools in the island province have been closed and high-speed rail services suspended since Monday evening, China's state-run Xinhua news agency reported. It's currently the equivalent of a Category 1 storm with winds around 87 mph (140 kph), said Ward.
"Since the storm isn't extremely strong it isn't all that important where the center hits, it's more about the heavy rainfall which will occur over the next several days from southern China into northern Vietnam," he said.