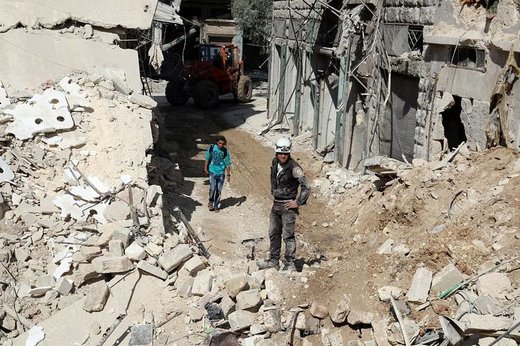 Russia is ready to cease operations in Aleppo at any moment to allow medics access to the Syrian city and ensure the evacuation of injured civilians, the General Staff said, adding that it has scheduled a humanitarian pause for Thursday.
"We are prepared to cease fire and ensure the unhampered access of medical personnel to the city and ensure the evacuation of the injured and sick as soon as we get a request from humanitarian organizations," Sergey Rudskoy, chief of the main operations directorate of Russia's General Staff, told the media.
According to Rudskoy, Moscow is ready "to discuss any initiatives and proposals for a settlement in Aleppo."
Russia and Syria will start carrying out a 'humanitarian pause' in Aleppo on Thursday, October 20, to allow passage to civilians and the withdrawal of militants from the city, he said.
The Russian and Syrian forces will refrain from military activity in Aleppo starting from 8am till 4pm local time on Thursday, the official added.
"We understand that the coordination of all issues can a take long time. Therefore, we decided not to delay a decision and initiate a
'humanitarian pause,' primarily for the free passage of civilians, the evacuation of the sick and wounded, as well as the withdrawal of fighters,
" Rudskoy explained.
EU foreign affairs chief Federica Mogherini has called Russia's announcement of a humanitarian pause a "positive step."
It should now be determined whether eight hours would be enough to organize the delivery of humanitarian aid to Aleppo, she added.
The UN has also welcomed the humanitarian pause in Syria's largest city
, according to a representative of UN Secretary-General Ban Ki-moon.
Rudskoy addressed "the leaders of illegal armed groups and [their] sponsors," saying that they will be able to leave eastern Aleppo unhampered during the pause.
Two corridors - one running along the Castello Road and the other in the souq-market area in the south of the city - will be created for the withdrawal of the militants, the official said.
Six more humanitarian corridors will be opened for the evacuation of civilians from Aleppo, he added.
According to officials, leaflets will be used to inform the population and the militants about the humanitarian pause.
"We call upon the leadership of the militants to defuse approaches to humanitarian corridors and to enable the population to evacuate northeastern Aleppo.
All civilians who leave the city are guaranteed full security, medical and other assistance, as well as temporary shelter. In addition, the people will be provided with hot meals and basic necessities,
" Rudskoy said.
Meanwhile, Russia has no plans to begin a unilateral ceasefire in Aleppo as it would "make no sense" in the current situation, Rudskoy stressed.
"According to the information from several sources, the supply of modern weaponry, including US-made TOW anti-tank missile launchers, continues to the militants," he said.
A ceasefire would only provide "another break for the terrorists, allow them to regroup and restore combat capability," the official explained.