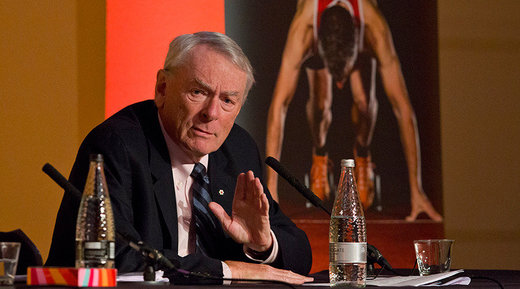 Former World Anti-Doping Agency (WADA) President Dick Pound says the International Olympic Committee (IOC) is considering replacing the drug oversight body as punishment for recommending a blanket ban on Russian athletes at the Rio Olympics.
Pound, who led an independent investigation into allegations of state-sponsored Russian doping last year, believes recent attacks on WADA by IOC members are due to it wanting a body which won't challenge its authority.
"I've always thought the IOC's attacks on WADA were a diversion to take everyone's mind off how the whole Russian situation has been bungled," Pound told
the Guardian
.
"WADA did exactly what it was supposed to do - which is bring recommendations against Russia - but one of the stakeholders didn't like them."
Earlier this week Gerardo Werthein, the Argentinian IOC member and president of the Argentinian Olympic Committee, accused WADA of trying to shift the blame for doping issues on to other organizations and suggested it was time for a new approach.
"Despite the various inquiries which have been launched, we have still not had an adequate explanation on why WADA did not act earlier on the situation in Russia when they had been fully alerted to the doping problem as early as 2010," he said.
"Indeed, WADA consistently declared the Russian national anti-doping agency code compliant and then re-accredited their Moscow lab just ahead of the 2014 Sochi [Winter] Games.
"Nor have we been provided with any serious analysis as to how WADA has let the sports movement and national governments spend major amounts of money on almost 300,000 tests per year and yet find so few of those who appear now to have been cheating.
"In truth most of the major doping cases have largely resulted from work by international federations, police investigations, whistleblowers and the media," Werthein added.
However, current WADA President Sir Craig Reedie, who is also an IOC member, has maintained the agency was unable to address the problems in Russia any earlier and insists the two organizations can enjoy a harmonious future together.
"I don't think there is any incentive for the IOC to sideline WADA - the IOC doesn't do any testing, apart from at an Olympic Games," said Reedie.
"The IOC has expressed a wish that there should be an independent testing unit and we are working on that this week.
"We need to work out whether this should be under the WADA banner or whether it should be a separate organization - who will make use of it and who will fund it."
"If the IOC establishes its own integrity unit, I await information on how that will be structured. I think the IOC are well aware that the other stakeholders in WADA are governments.
"Inevitably the organization would lose its independence, which is absolutely central to its functioning."
WADA currently has a $30 million annual budget to carry out its activities, which is split equally between the IOC and governments around the world.
The agency believes the IOC should increase WADA's independence, allowing it more freedom to attract more funding and improve testing procedures.
The IOC, WADA and other stakeholders will discuss the future of anti-doping at a special Olympic summit on October 8 in Lausanne.