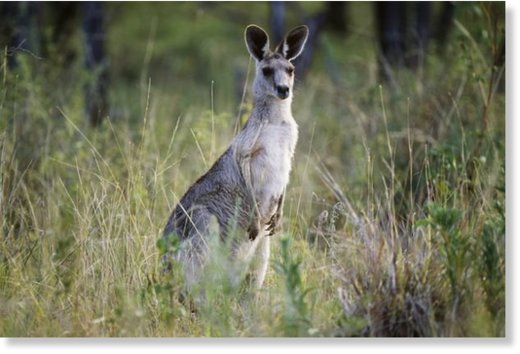 A kangaroo has attacked a two-year-old baby girl in the garden of a Queensland home in Australia -
leaving the young tot with face and chest injuries.
Terrified neighbours rushed to the aid of the child after hearing screams as the wild animal bore down on her.
Witness Renee Harris explained: "I ran out and saw the young toddler on the ground with the kangaroo on top.
"I ran across the road and the mum ran over, everyone was screaming.
"It came for me.
I was just so scared."
The child was grabbed by her mother before emergency services were called.
Another witness took to Facebook to say the young girl's mum was also lucky not to have been hospitalised.
The Australian
newspaper reported that she posted:
"The mum also got attacked and a neighbour. The little girl is a mess but should be OK.
"She had a large deep cut and bruising on her chest."
The child was attacked in Dougan Street, Point Vernon, at Hervey Bay on Queensland's Fraser Coast - over three hours drive north of Brisbane.
The popular tourist resort is a well-known site for watching humpback whales.
The attack happened in the afternoon at a private house in Point Vernon - which is situated at the northern end of the coastal town.
The child suffered scratches to her chest and face - but the true extent of the girl's injuries remains unclear.
It is believed she was playing in a yard at the time of the attack, according to 7 News Queensland.
The Fraser Coast Chronicle
reported Ms. Harris was watching TV when she heard screaming - and ran out to see the girl being attacked by the 'aggressive' kangaroo from metres away.
Ms Harris said she rushed over to intervene alongside the toddler's mother - who managed to grab the baby before emergency services were called.
The attack happened at about 4pm local time near where a new housing development is being built only yards from the beach.
The whereabout and well-being of the eastern grey kangaroo - which are often seen roaming the local area - are also unclear.
An eastern grey male typically weighs around 66kg and stands almost 2m (6ft. 6in.) tall,
Paramedics treated the injured child at the scene before taking the girl to Hervey Bay Hospital where she is reported to be in a stable condition.
A Queensland Ambulance Service spokeswoman said: "Paramedics have treated a female child with scratches to the face and chest after a reported incident with a kangaroo.
"It was at a private residence in Point Vernon. She was transported in a stable condition to Hervey Bay Hospital."
Kangaroos are endemic to Australia - where they feature on the country's coat of arms - with an estimated 34.3million plus living on the continent in a 2011 census.